Will.i.am
Multi Grammy Award-winning musician and creative innovator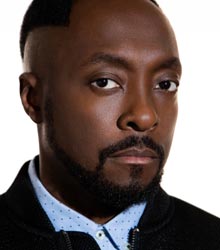 About
Will.i.am, a multi-faceted entertainer and creative innovator, and a seven-time Grammy Award winner. Known for his work with The Black Eyed Peas, who have sold 33 million albums and 58 million singles worldwide, he has also worked with some of the industry's biggest names including Michael Jackson, Rihanna, Usher, Nicki Minaj, Britney Spears, Miley Cyrus, David Guetta and film composer Hans Zimmer.

Will.i.am is also very active in front of, and behind the camera. He is a Coach on hit reality TV show The Voice UK that airs on BBC One. Concurrently, he also stars as a Coach on The Voice Australia. His film credits include starring roles in Rio, Rio 2, Madagascar 2: Escape To Africa, and X-Men Origins: Wolverine.

Early in his career, Will.i.am studied at the Fashion Institute of Design and Merchandising (FIDM) in Los Angeles—the same college that educated successful designers Lauren Conrad and Monique Lhuillier.

Entrepreneurship
Will.i.am is a founding shareholder in Beats Electronics, the creators of Beats by Dre headphones. Leveraging his experience in the consumer electronics industry, Will.I.am introduced his i.am+ foto.sosho camera accessory for iPhones. He is now developing wearable computing devices through his i.am+ company.

In collaboration with The Coca-Cola Company, Will.i.am is on a mission to elevate the importance of recycling and to turn waste into a valued commodity through his EKOCYCLE brand. EKOCYCLE gives consumers an array of stylish options when shopping for co-branded fashion apparel, a menswear line, accessories and sporting goods that incorporate recycled plastic bottles (rPET). Brand partners include: Adidas, Beats Electronics, H Brothers, Levi's, MCM, NBA, and New Era.

As a musician, producer, director and advocate for education, he is an enthusiastic user of technologies in both his professional and personal life.

In recognition of his ability to harness technology to enhance entertainment, creativity and communication, he was appointed Chief Creative Officer at 3D Systems Inc. in 2014. He served as Director of Creative Innovation at Intel Corporation from 2011 – 2013. Will.i.am continues to collaborate with Intel colleagues on an array of independent creative and philanthropic projects.

Philanthropy and Advocacy
With a commitment to inspire kids to stay in school and go to college to become the leaders of tomorrow, Will.i.am advocates regarding the importance and power of a good education through the i.am angel foundation. The i.am scholarship provides future leaders and innovators with comprehensive financial assistance to complete post-secondary education. In addition, the i.am angel foundation is also active in the UK through a STEM education and computer skills joint initiative with The Prince's Trust. The World Economic Forum named him a Young Global Leader in March 2013 due to his position as a STEM education advocate.

Will.i.am was named to Fortune's 40 Under 40 Young Business Leaders to Watch issue in October, 2013. He is the recipient of seven Grammy Awards, a Latin Grammy Award, an Emmy Award, two CLIO Awards, two NAACP Image Awards, a Root.com 100 Award, a VH1 Do Something Award, the BMI President's Award and a Webby Award.
Speech Topics
Speaking & Awards
Will.i.am has addressed such diverse audiences at Bloomberg Next Big Thing, BSR, Cannes Golden Lion Festival, CES, Clinton Global Initiative Annual Meeting, Dubai Music Week, US FIRST, IBC, MacWorld, Royal Academy of Engineering, Royal College of Art, Royal Television Society, UK Trade & Investment Summit and others.

Recognised and honoured by numerous industry organisations, Will.i.am was named a Young Global Leader by the World Economic Forum in March, 2013, in recognition for his role as a STEM education advocate. He is the recipient of multiple Grammy Awards, a Latin Grammy Award, an Emmy Award, a CLIO Award, two NAACP Image Awards, a VH1 Do Something Award, the BMI President's Award and a 2008 Webby Award.
Books and DVDs
Clients often ask about purchasing books for giveaways and delegate packs. Below you'll find a selection of products by Will.i.am. Click the images to view on Amazon's website. For bulk orders, please speak with your Booking Agent.
You may also be interested in...