Pharrell Williams
Musician, producer and entrepreneur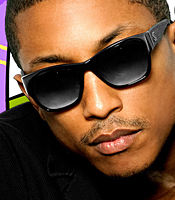 Copyright © Jam Sutton
About
Grammy Award winning singer/songwriter/producer Pharrell Williams has made history for being one of the most successful and prolific artists to emerge during the last decade. As part of the beat-making duo The Neptunes with Chad Hugo and the alternative rock trio N.E.R.D. with Chad and childhood friend Shae Haley, Pharrell has helped A-List pop stars sell millions of albums and even earn Grammy Awards for the likes of Justin Timberlake, Nelly, and Usher.

Pharrell's unique style and creative aesthetic has been a fore in several successful businesses outside the world of music. These include founding the popular clothing brands, Billionaire Boys Club and Ice Cream, as well as designing limited edition jewelry and accessories for Louis Vuitton. In collaboration with French furniture makers Domeau & Peres, Pharrell designed a collection of chairs called "Perspective" which debuted at the prestigious Emmanuel Perrotin Galerie in Paris.

Pharrell followed up with a second chair design for the Emmanuel Perrotin Galerie called "Tank" which was released in 2009. He recently teamed up with Domeau & Pérès and Brooklyn Machine Works to create limited edition 'Velo' bikes. Williams also partnered with Tokyo born artist Takashi Murakami to create the artwork entitled 'Simple Things' kicking off the official opening of Art Basel Switzerland in 2009. The sculpture was manufactured by Kaikai Kiki Co., Ltd in collaboration with Jacob & Co. It was started some time early 2007, taking two years to come to complete fruition.

Pharrell Williams is also a partner in Bionic Yarn, a 2 year old textile firm based in New York dedicated to developing environmentally sustainable fabrics using recycled plastic bottles. The company has corporate partnerships with companies including Cole Haan, End Star, Moncler, The Gap and Timberland. Lastly, he recently scored Illumination Entertainment's animated film Despicable Me featuring the voices of Steve Carell and Russell Brand.

Additionally, pharrell owns a non-profit organization called "From One Hand To AnOTHER" (FOHTA). FOHTA is an educational foundation. Its mission is to "change the world one kid at a time by giving them the tools and resources to meet their unique potential". FOHTA's vision is to modernize the community center concept by empowering kids to learn through new technologies, arts, media and motivation.
Speech Topics
Individuality is the New Wealth
The most successful people and businesses bring something unique to pop culture. It's the rule breakers who have the power to change the world. With Pharrell Williams' new creative collective i am OTHER, he encourages people to pursue experiences as the new assets for success.

Feed Your Curiosity
Although he started his career in music, Pharrell Williams has also found success in fashion, art and design. None of it would have been possible without a passion for exploration. Pharrell's career is an example of going beyond what you already know to find more opportunities for growth and success.

Saving Arts Education
As more schools across the country cut budgets for the arts, America runs the risk of short-changing our youth. Pharrell Williams credits his high school's music program with transforming his life and encouraging him to shoot for the stars. Without an arts education, he would not be the person he is today.
Books and DVDs
Below you'll find products by Pharrell Williams which may be available for purchase. Click the image to view on Amazon's website. Clients often like to purchase books and other merchandise as autographed give-aways at events where Pharrell Williams is appearing. For bulk purchases, please speak with the Booking Agent handling your event.
You may also be interested in...