Riz Ahmed
Emmy-winning Hollywood actor, musician and activist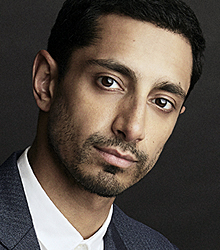 Copyright © Sam Jones
About
British-born Riz Ahmed is an Emmy-winning actor, musician and activist; he has also been nominated for a Golden Globe, Screen Actors Guild Award and three British Independent Film Awards. Riz has been quietly pursuing every passion and opportunity for many years as an actor, and his meteoric rise to fame has made him an inspiration to a whole generation including BAME (Black, Asian, Minority, Ethnics).

In 2017, Riz was included on the front cover of the annual Time 100 list of the most influential people in the world.

As a musician, Riz is one half of the critically acclaimed rap duo, Swet Shop Boys, with the hip-hop albums Microscope and Cashmere, and earned commercial success featuring in the Billboard 200 chart topping Hamilton Mixtape, with their song "Immigrants (We Get The Job Done)" winning an MTV Video Music Award.

As an activist, Riz Ahmed has spoken candidly about Islamophobia, both in a personal and societal context, and garnered viral attention for his essay in 'The Good Immigrant' and speech on fair representation at the House of Commons. He has also been involved in raising funds for Syrian refugee children.

Born in Wembley, north London, to a British Pakistani working class family in 1982, Riz Ahmed graduated from Christ Church, Oxford University, with a degree in PPE (Philosophy, Politics and Economics), and later studied acting at the Central School of Speech and Drama. His film career began in the Michael Winterbottom film 'The Road to Guantanamo' and continued with 'Shifty', 'Four Lions', 'Trishna' and 'Ill Manors', before his 2014 breakout role in 'Nightcrawler' starring alongside Jake Gyllenhaal. In 2016, he starred in 'Rogue One', the first film in the new Star Wars anthology films as Bodhi Rook, a defected imperial pilot.

In 2017, Riz Ahmed became the first actor of Asian and Muslim descent to take home the EMMY for Lead Actor in a Limited Series, for his role as Nasir Khan in the HBO drama 'The Night Of'.
Testimonials
Riz was great! He's so smart and thoughtful. He was the favourite session of the day.
You may also be interested in...