Ben Affleck
Award-winning Hollywood actor, writer and critically-acclaimed director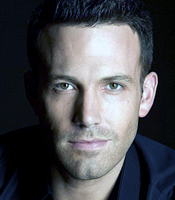 About
Ben Affleck is a two-time Academy Award® winner who has been recognised for his work as a director, actor, writer and producer. In 2013 he directed, produced and starred in the award-winning hit "Argo", a fact-based drama about the then-classified mission to rescue six Americans trapped in Iran during the hostage crisis.

Ben attended Occidental College in Los Angeles and then the University of Vermont, where he studied Middle Eastern affairs for one semester, but dropped out to pursue his acting career. He first gained public attention for his performances in the Kevin Smith films Mallrats (1995), Chasing Amy (1997), and Dogma (1999).

However, it was Good Will Hunting (1997) that gained Ben Affleck international fame and recognition when he won the Academy Award and Golden Globe Award for Best Original Screenplay - which he co-wrote and co-starred with childhood actor friend Matt Damon. He then achieved further recognition and cemented his place as an A-List Hollywood actor starring in films such as Armageddon (1998), Pearl Harbor (2001), Changing Lanes (2002), The Sum of All Fears (2002), Daredevil (2003), Hollywoodland (2007), State of Play (2009), and The Town (2010).

Ben Affleck made his directorial debut in 2007 with the feature Gone Baby Gone, for which he earned several critics groups' awards. In 2010, Ben directed and starred in "The Town," in addition to co-writing the screenplay.

In addition to a highly successful film career, Ben Affleck is actively involved in politics and charitable causes. He is also a passionate advocate and philanthropist. In March 2010, he founded the Eastern Congo Initiative (ECI), the first US-based advocacy and grant-making initiative wholly focused on the mission of helping the people of eastern Congo support local community-based approaches that create a sustainable and successful society in the long-troubled region. In 2012, Ben wrote an article endorsing the Kony 2012 campaign. He applauded the action taken by the Invisible Children in regards to raising awareness about child soldiers in Africa, in addition to raising awareness about the LRA. However, he commented that "Westerners are not and will never be the 'saviours' of Africa".

Politically, Ben Affleck is a democrat and in the final weeks of the 2000 Presidential campaign, he supported Al Gore. Along with Helen Hunt, Martin Sheen, Rob Reiner and other actors, Ben spent an hour at a phone bank calling registered Democrats. "People in my generation have a low voter turnout. One of the reasons that I'm here is to demonstrate that no matter who you are going to vote for... I think it's important to get involved and get out and vote," he told reporters. In 2004, he actively campaigned for Democratic presidential nominee John Kerry. During a TV interview he was asked if he would consider running for office, and he admitted to contemplating the proposition, noting that the line between politics and entertainment is becoming increasingly blurred, as proven by Ronald Reagan and Arnold Schwarzenegger.
You may also be interested in...