Sonique
Brit Award-winning vocalist and DJ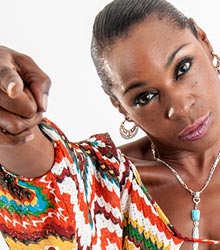 About
British vocalist and DJ Sonique is best known for her chart hits It Feels So Good and the remix of I Put A Spell On You.

At the age of seventeen, Sonique was told by a youth worker that she had a nice voice and should make use of it professionally. She set about putting together a reggae band called 'Fari' in which she ended up writing all the music.

When the band eventually disbanded she set her sights further on getting a record contract, and in 1985 she released the single Let Me Hold You, which hit the Top 40 on the UK Dance Chart.

During the early 1990s she provided vocals for S-Express and along with DJ Mark Moore they charted in the UK Singles Chart with hits including Nothing To Lose. Between 1997 and 1999 she was DJ-in-residence at Club Manumission in Ibiza.

Sonique eventually signed to London-based label Serious Records, where her first single was I Put A Spell on You produced by Chris Allen and ex-Wang Chung keyboardist Graeme Pleeth. She released her debut solo album Hear My Cry in 1998 — which has since gone on to sell over a million albums in the UK alone — and, re-released in 2000, the album's hit single It Feels So Good topped the UK chart for three weeks in May. After 14 weeks in the Top 40, it became the UK's third best-selling single of 2000.

In 2001, following the success of It Feels So Good, she announced that she planned to retire from the world of DJing to focus on her singing career. Sonique was recognised by the Guinness Book of Records as the first female solo artist to be #1 for 3 consecutive weeks - the first in 22 years since Kate Bush's Wuthering Heights in 1978.

With these successful single releases and a UK top ten album in her hand, Sonique topped other respectable nominees like Dido, Jamelia, PJ Harvey and Sade at the Brit Awards 2001 and received the honour as Best British Female Solo Artist. At the 46th Ivor Novello Awards that same year, Sonique also won the International Hit of the Year for her single It Feels So Good, from the number 1 album Hear My Cry.

In June 2009, Sonique was diagnosed with breast cancer and underwent surgery at a London clinic; opting to receive five months of chemotherapy in an effort to prevent a recurrence. She was given the all clear in 2010 and celebrated by appearing on a cover version of the Cyndi Lauper song Girls Just Want To Have Fun, which was released to raise fund for the Cancer Research UK charity.

Her single World of Change was released in October 2009, which was followed in 2011 with the release of the album Sweet Vibrations, containing the previously released singles Better Than That and World of Change.

Sonique continues to tour the world appearing at a variety of music festivals, corporate events and private parties.
Performance
Sonique is a real force in dance music, both as a selector in the DJ booth and as a vocalist and producer. She has an emotive singing style that makes for spine tingling atmospheres, and when DJing she is just as electrifying.

Crowds all over the world who have danced to Sonique's on-point sets will attest to that, as she has played in more than forty countries and was an esteemed resident at legendary Ibiza club Manumission for a number of seasons, as well as regularly headlining Cream and Gatecrasher amongst others.

Sonique has been behind a number of powerful dance tracks that have also made an impact on the UK chart scene. First, shooting to fame as part of S Express in the 1980s and then with a number of Top 40 successes.
You may also be interested in...