Soul II Soul
One of the most iconic and popular soul bands of the 1980s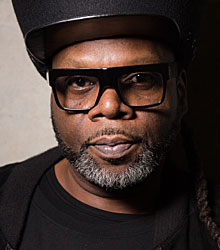 About
One of the most iconic, memorable and popular bands of the 1980s, Soul II Soul took its name not just for the music they played, but because it also encapsulated everything Daddae and Jazzie B stood for - two souls moving together.

Jazzie B hails from the days "when a No.14 bus and a supermarket trolley got us around", he will tell you when talking about his early sound system days. And it's this determination, desire, resourcefulness, passion, enthusiasm, drive, ambition and a simple love for music that has got Soul II Soul where it is today.

Jazzie took his first steps into the bass heavy world of the sound system when he was just 13. Following in their big brothers' footsteps, Jazzie and a school friend known as Daddae started a sound called Jah Rico, which played mainly reggae music. After a three year apprenticeship as Jah Rico, Jazzie and Daddae changed the vibe of the sound and began playing more soulful music. Soul II Soul was created.

When he was 18, Jazzie worked for Tommy Steele as a tape operator. He was there for the next two years. As one of the few black people in the business at that time, Jazzie endured a sometimes hostile environment. Perhaps it was this encounter that helped Jazzie to create an environment, which was to appeal across the board; with its Balearic beats and a new sound called Acid House, the warehouse scene was in full swing by the mid 1980s. Expressing a flare for creativity Soul II Soul naturally slotted into that scene.

Soul II Soul then landed a gig at the now legendary Africa Centre in London's Covent Garden. There they created the Soul II Soul experience. Unlike other sound systems on the same circuit, Soul II Soul wasn't just about the big name DJs, it was about a vibe.

The Africa Centre caught the attention of record industry executives and it wasn't long before Soul II Soul were being pursued by record labels. In 1986, Soul II Soul signed to Virgin, and the partnership catapulted Soul II Soul into a tornado of success.

The Soul II Soul sound was original, new, fresh, and infectious, but above all it was a UK thing. It was homegrown. It represented without alienating itself. And the masses couldn't get enough of it. Jazzie enjoyed chart success with 'Keep On Moving' and 'Back To Life'. And he and Soul II Soul quickly became household names.

In 2008, Jazzie won the Ivor Novello Award for inspiration, and as he stepped up to accept the trophy he was announced as "the man who gave British black music a soul of its own". In the same month there was royal recognition for the Funki Dreds when, after thirty years of dedication, Jazzie was awarded an OBE for services to music. The first sound man to be honoured by Her Majesty the Queen, and probably the most deserved investiture ever.

2012 saw Soul II Soul awarded with the PRS for Music Heritage Award where a special plaque was erected on The Electric (formerly The Fridge) in Brixton, where the group played their first full live gig in 1991. British pride and achievement continued when "Back to Life" was featured in the Opening Ceremony of the London 2012 Olympics.

So while Jazzie B no longer borrows supermarket trolleys and probably hasn't seen the inside of a No.14 bus for a while, the sound system mentality is still very much at the root of Soul II Soul which is what keeps him in touch with his continually evolving audience, and is a forward-looking, far-reaching way of doing things that has now become officially recognised.
Books and DVDs
Clients often ask about purchasing books for giveaways and delegate packs. Below you'll find a selection of products by Soul II Soul. Click the images to view on Amazon's website. For bulk orders, please speak with your Booking Agent.