Billy Ocean
Popular 80's singer and biggest-selling British black artist of all time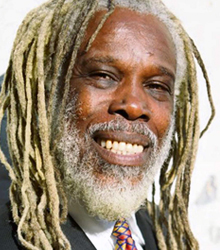 About
Billy Ocean holds the prestigious title of being the biggest selling British black artist of all time. During his career Billy has sold in excess of 30 million singles and albums worldwide, reaching his pinnacle throughout the 1980's. He has collected a several Gold and Platinum records across the world and hit the number one spot worldwide on pop charts including in the USA, Australia, Germany, Holland, and the UK. Billy has achieved extraordinary success as both artist and songwriter. However, his success is only the tip of the iceberg.

From humble beginnings to international stardom his road to fame has at times been tinged with despondency. His determination to succeed and talent have always shone through even the darkest of times, proving that when the going gets tough... the tough really do get going.

Born Leslie Sebastian Charles in 1950, on the Caribbean Island of Trinidad, it was in 1958 at just 7 years old when his family immigrated to England in search of work, settling in the East End of London. The calypso crazy kid soon got turned on to soul singers like Otis Redding and Sam Cooke as well as pop groups like The Beatles and Rolling Stones leading him to spend much of his study time in the music room.

In 1975, adopting the name Billy Ocean, he signed a production deal with GTO records and later that year his first single was released titled, "Whose Little Girl Are You?". After years of hard work and well-earned success, Billy decided to take time away from the music business and devote himself to his family. Jive issued a "Greatest Hits" package in September 1989, which went on to be Billy's biggest selling UK album, this time going Platinum.

In November 2002, Billy was awarded an Honorary Doctorate of Music by the University of Westminster, where his eldest daughter Cherie studied for her degree in Commercial music.

Billy continues to live in England and enjoys spending time with his family, gardening at his home in Berkshire and performing around the globe.
Performance
Billy Ocean is available as a headlining act for private, public and corporate functions.
You may also be interested in...