Lisa Stansfield
Manchester-born 1990s singer songwriter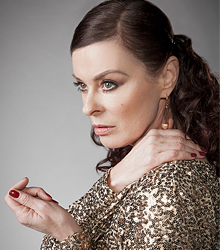 About
Among British female vocalists, Lisa Stansfield has stood supreme for over 15 years. You might call her our leading soul diva. Certainly, she's as soulful as they come with a breathtaking voice and a remarkable range. Yet 'diva' doesn't seem quite right. The prima donna connotations of the word don't really fit the down-to-earth honesty and lack of pretension that characterise the girl from Rochdale, Lancashire who has sold nearly 20 million albums world-wide.

Her songs have become part of the soundtrack of our lives and have won her countless awards, including BRITs and Ivor Novellos and a Grammy nomination. But it's perhaps only when you listen to them collected together that you realise just how deeply her music has penetrated our consciousness.

Her first television appearance was on a talent programme in the Granada TV area in 1982, she won the competition singing The Human League track "The Things That Dreams Are Made Of". After releasing several unsuccessful singles in her mid-teens, Lisa co-hosted a children's TV pop show, Razzamatazz with Alistair Pirrie, and could be seen on 1983 children's television series The Krankies Klub, alongside comedian Jimmy Cricket and rock band Rocky Sharpe and the Replays.

Lisa's band Blue Zone saw modest success with the single "Jackie", she then crossed over into the UK Top 40 singles chart as guest vocalist on Coldcut's record "People Hold On". She is probably best known internationally for her first UK number-one single, "All Around the World" (1989). Other world-wide hits from her solo debut album Affection include "This Is the Right Time", "Live Together", "What Did I Do to You" and "You Can't Deny It". "Affection went platinum in the United States and triple platinum in the UK selling over five million copies world-wide.

In 1990, Lisa Stansfield was among the high profile artists who participated in the Red Hot + Blue charity disc produced by the Red Hot Organisation, which honoured Cole Porter's song writing and benefited AIDS research. She demonstrated her swing and jazz abilities on the song "Down in the Depths", which was one of few traditional renditions to appear on the album. Thus began an illustrious and respected tradition of Stansfield offering jazz and torch songs to outside projects. This is likely what got her noticed for consideration as the female lead in the independent film Swing (1999), in which she also sang the majority of the film's songs.

In 1991 and 1992, she won the BRIT Award for best British female solo artist. Her second album Real Love spawned four Top 40 singles on the European charts: "Change", "All Woman", "Time to Make You Mine" and "Set Your Loving Free". Lisa Stansfield continued recording disco-influenced soul throughout the 1990s. Her third album So Natural (1993) spawned three Top 40 European singles including the title track, "In All the Right Places" and "Little Bit of Heaven".

She also has an established career in acting; she starred in the 1999 film Swing with actor Hugo Speer, and recorded cover versions of swing songs and a few original songs written in the style for the soundtrack. She later appeared on a London stage in The Vagina Monologues. In 2006, she guest-starred in the series Goldplated. And in 2007, she starred in a Marple episode ("Ordeal by Innocence") and later joined the cast of The Edge of Love.

Lisa Stansfiled is a popular headline act for corporate dinners and private parties.
Video
Click below to watch video footage of Lisa Stansfield. To enquire further about Lisa Stansfield for corporate and private bookings, please click here or call us on +44 (0)1372 361 004.
Books and DVDs
Below you'll find products by Lisa Stansfield which may be available for purchase. Click the image to view on Amazon's website. Clients often like to purchase books and other merchandise as autographed give-aways at events where Lisa Stansfield is appearing. For bulk purchases, please speak with the Booking Agent handling your event.
You may also be interested in...