Erin Brockovich
Environmental legal consultant and subject of Hollywood movie about her life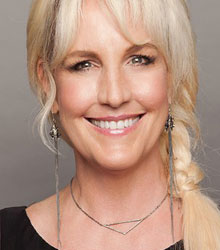 About
Erin Brockovich grew up in Kansas, the youngest child of an industrial engineer and a journalist. After graduating from Lawrence High School she attended Kansas State University then moved to Dallas, Texas, where she earned her Associate in Applied Arts degree at Wades Business College.

In 1991, after being seriously injured in a traffic accident Erin hired Jim Vititoe of Masry & Vititoe to handle her insurance case. Not long after the case was resolved, she was hired to work at the law firm as a file clerk. While organising papers in a pro-bono real estate case, Erin Brockovich found medical records in the file that caught her eye. After getting permission from one of the firm's principals, Ed Masry, she began to research the matter.

Erin's investigation eventually established that the health of countless people who lived in and around Hinkley, California, in the 1960's, 70's and 80's had been severely compromised by exposure to toxic Chromium 6. The Chromium 6 had leaked into the groundwater from the nearby Pacific Gas and Electric Company's Compressor Station. In 1996, as a result of the largest direct action lawsuit of its kind, spearheaded by Erin Brockovich and Ed Masry, the giant utility paid the largest toxic tort injury settlement in US history: $333 million in damages to more than 600 Hinkley residents.

Erin Brockovich's investigating inspired the hit movie named after her "Erin Brockovich", which highlighted her legal triumph and personal challenges. Released in 2000 by Universal Studios, it starred Julia Roberts as Erin Brockovich. The movie's great success led to numerous awards and nominations, including 5 Academy Award nominations and one win. Steven Soderbergh was nominated for an Oscar for "Best Director", and Julia Roberts won an Oscar, a Golden Globe, and a BAFTA Award for "Best Actress" for her portrayal of Erin.

From the exposure of the movie, Erin Brockovich became a reluctant public figure. Over time, she realised she could use her notoriety to spread positive messages of personal empowerment and for her to encourage people to stand up and make a difference. In 2002 she published her book entitled "Take It from Me, Life's a Struggle, But You Can Win."

Erin Brockovich is now one of the most requested motivational speakers and after dinner speakers in the USA. She travels the world making personal appearances, spreading motivational messages, telling her story and personal life lessons.
Testimonials
Considering booking Erin Brockovich for your event? You may find the following client testimonials and comments helpful. To enquire further about Erin Brockovich for corporate and private bookings, click here or call us on +44 (0)1372 361 004.
I had to send a quick note to you after listening to you at the Inspiring Women's Show in Waterloo. UNBELIEVABLE impact. I am still reflecting on many of your words. Thank you thank you thank you again.
It was great! Everyone loved Erin Brockovich, we had so much fun with her, & she is so very nice. She's been the talk of the conference.
Thank you for speaking at Genentech today. I was lucky enough to be front of the room to see you. Your wit, humour and candidness was so appreciated that I wanted to write you and thank you for doing what you do. I believe you left a lasting positive impression on all of us about hope and trying the best we can each day.
It was a HUGE success!!!! The entire event, including the luncheon, exceeded our expectations! Loved meeting Erin Brockovich - her speech was EXCELLENT!!!
I have just returned home from the Manchester BIBA Conference 2009 and found your speech the most inspirational and heartfelt I have listened to in many years. It has certainly made me take stock of my own RAM and re-evaluate my priorities.
Books and DVDs
Below you'll find products by Erin Brockovich which may be available for purchase. Click the image to view on Amazon's website. Clients often like to purchase books and other merchandise as autographed give-aways at events where Erin Brockovich is appearing. For bulk purchases, please speak with the Booking Agent handling your event.
You may also be interested in...