Whoopi Goldberg
Comedian and A-list award-winning Hollywood actress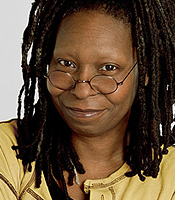 About
One of the most recognised names in the entertainment business, Whoopi Goldberg has conquered film, the stage, television and even publishers best-seller lists.

Her many films, which include The Color Purple, Ghost, Sister Act, Clara's Heart, Soapdish, Boys On the Side, Moonlight and Valentino and The Long Walk Home, have become classics in our popular culture, and her television roles have spanned hit shows from Star Trek: The Next Generation to Rodgers and Hammerstein's Cinderella. She's starred in her own late night syndicated talk show, and currently co-hosts ABC's popular morning show The View.

In addition to starring live on stage and on the screen, Whoopi Goldberg has also made her mark as a producer. She has executive produced many shows for television, including the Lifetime original drama series Strong Medicine, What Makes A Family, and the Emmy Award-winning Hollywood Squares, and executive produced the hit Broadway musical, Thoroughly Modern Millie, which won six Tony Awards, including Best Musical. Whoopi Goldberg is part of a very elite group of artists who have won a Grammy, Academy Award, Golden Globe, Emmy and a Tony.

A prolific and best-selling author as well, her most recent book is Is It Just Me?: Or Is It Nuts Out There? Which takes a funny and excruciatingly honest look at how a loss of civility is messing with the quality of life for all of us. Her stage name, "Whoopi", was taken from a whoopee cushion; she comments that "If you get a little gassy, you've got to let it go. So people used to say to me, 'You're like a whoopee cushion.' And that's where the name came from". She adopted the traditionally German/Jewish surname Goldberg as a stage name because her mother felt that the family name Johnson was not "Jewish enough" to make her a Hollywood star.

In 2010 Whoopi Goldberg joined singer Cyndi Lauper in the launch of her 'Give a Damn' campaign to bring a wider awareness of discrimination of the LGBT community. The campaign aims to bring straight people to ally with the gay, lesbian, bisexual, transgender community. Other names included in the campaign are Elton John, Cynthia Nixon, Kim Kardashian, Sharon Osbourne and Kelly Osbourne.

Whatever Whoopi thinks, you can count on her to tell it to you straight, with her trademark irreverence and humour.
Testimonials
Whoopi Goldberg was truly awesome – the way she incorporated our students into her act, the lifetime memory she created for the young man she called to the stage, the meet and greet after the show…She's a real class act!
Books and DVDs
Clients often ask about purchasing books for giveaways and delegate packs. Below you'll find a selection of products by Whoopi Goldberg. Click the images to view on Amazon's website. For bulk orders, please speak with your Booking Agent.
You may also be interested in...