Cuba Gooding Jr.
Academy Award-winning actor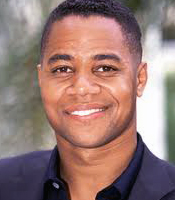 About
Cuba Gooding Jr. is best known for his Oscar winning portrayal of the charmingly arrogant professional football player, Rod Tidwell, in the Hollywood blockbuster Jerry Maguire, and his much repeated line in the film "Show Me The Money!!!" which went on to become a global catchphrase.

Starring opposite Tom Cruise in the Cameron Crowe directed film, Cuba solidified his position as one of Hollywood's most talented actors. In addition to his Academy Award, Gooding was also honoured with the Screen Actors Guild Award, The Broadcasters Film Critics Award and the Chicago Film Critics Award for this roll. In 2002, Cuba Gooding Jr. received a star on the Hollywood Walk of Fame honouring his achievements as an actor.

Born in The Bronx in 1968, to parents Cuba Gooding Sr. (of R&B Group The Main Ingredient) and Shirley Gooding (of the Sweethearts), Cuba was exposed to the entertainment industry early in his life.

His first job as an entertainer was as a break-dancer performing with singer Lionel Richie at the closing ceremonies of the 1984 Summer Olympics in Los Angeles. After high school, Cuba Gooding Jr studied Japanese martial arts for three years, before turning his focus toward acting. Early on, he landed guest starring roles on shows like Hill Street Blues (1981), Amen (1988) and MacGyver (1988, 1989 and 1990). His first major role was in the John Singleton's box office surprise and critical hit Boyz n The Hood (1991).

He followed this success with roles in major films like A Few Good Men (1992), Lightning Jack (1994), Outbreak (1995), Men of Honor (2000), Rat Race (2001), and The Fighting Temptations (2003) in which he co-starred alongside Beyoncé Knowles who portrayed his love interest. Following the success of Jerry Maguire, Cuba had a notable supporting role in As Good as It Gets (1997) opposite Jack Nickolson and Helene Hunt.

He appeared on Channel 4's Chris Moyles' Quiz Night in August 2011, closing the show dueting Bad Romance with Lulu. He resides in Los Angeles with his wife and three children.

in 2006, Cuba was honoured with the American Academy of Neurology Foundation's 'Public Leadership in Neurology Award' because of his work to raise public awareness of multiple sclerosis. The award was presented at the American Academy of Neurology's 58th Annual Meeting in San Diego, the world's largest annual gathering of neurologists.
Speech Topics
Cuba Gooding Jr. is an inspiring and motivating speaker and presents speeches on topics such as 'Fulfilling Your Potential', 'Overcoming Obstacles' and general motivation.
Tags for Cuba Gooding Jr.
You may also be interested in...