Joanna Lumley
BAFTA-winning English actress, author and activist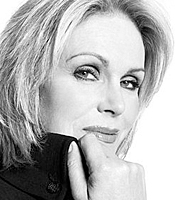 About
Joanna Lumley was born in Kashmir in 1946 and came to England as a young girl to complete her schooling at St. Mary's School in Sussex.

She spent three years as a photographic model and also worked as a house model for the late Jean Muir.

Her early films included Some Girls Do (1968), On Her Majesty's Secret Service (1969), two Pink Panther films - The Trail of the Pink Panther and The Curse of the Pink Panther (both 1982), The Satanic Rights of Dracula (1973) and Shirley Valentine (1988).

More recent films include James and The Giant Peach, Innocent Lies, Funny Bones, a television film of Cold Comfort Farm (all 1994), Prince Valiant (1996), Sweeney Todd (1997), Parting Shots (1997), Whispers (1998), Mad Cows (1998), Maybe Baby (1999) and The Cat's Meow (2000).

Her early television work includes Steptoe and Son, The Persuaders, General Hospital and Coronation Street.

She played Purdey in 24 episodes of The New Avengers and recorded 34 episodes of Sapphire and Steel - both programmes are being constantly transmitted worldwide.

Joanna is probably best known for her hugely popular role of Patsy in the award winning series Absolutely Fabulous for the BBC.

Other recent television includes Class Act for Carlton, Coming Home and Nancherrow for Portman.

In 1996 she travelled to Bhutan to film a journey made by her grandparents - In The Kingdom of The Thunder Dragon - and also filmed A Rather English Marriage (nominated for a BAFTA for Best Actress - 1999) and Dr Willoughby for Pearson.

In 2000 Joanna undertook a new role in her career as co-producer for a new drama series entitled The Cazalet Chronicles for the BBC.

In 2001 she recreated her Patsy role in Absolutely Fabulous. 2002 saw Joanna star in six ten minute monologues, entitled Up in Town, a Baby Cow Production for BBC TWO.

Joanna's theatre work is equally extensive - her most recent appearance was six weeks at the Lyric Theatre, Hammersmith in a production of The Letter directed by Neil Bartlett. Other theatre engagements includes a tour of Private Lives, Noel and Gertie at the King's Head, Hedda Gabler at the Dundee Rep and Blythe Spirit.

She has written three books, Stare Back and Smile (autobiography), Forces Sweethearts, Girl Friday and In the Kingdom Of Thunder.

Joanna was awarded an OBE in the 1995 New Year's Honours. She is married to the conductor Stephen Barlow and lives in London.
You may also be interested in...