Brian Blessed OBE
Distinguished, highly respected actor and explorer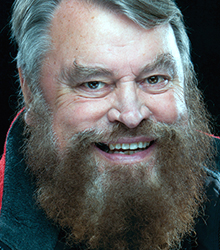 About
The son of a South Yorkshire coal miner, Brian Blessed was born in 1936 in Mexborough and grew up in the mining village of Goldthorpe. He trained at the Bristol Old Vic Theatre School before beginning a distinguished and varied career, which has encompassed all media. Brian is now one of this country's best known and most highly respected actors.

Brian created the role of 'Old Deuteronomy' in Andrew Lloyd Webber's highly successful musical, Cats, he was a member of the Royal Shakespeare Company and has played roles at the Royal National Theatre. He also created the role of 'Baron Bomburst' in the original cast of the hugely successful musical, Chitty, Bang, Bang at the London Palladium.

Countless television roles include; 'Augustus Caesar' in I Claudius, 'PC Fancy Smith' in Z Cars; 'Porthos' in The Three Musketeers; 'Spiro' in My Family and Other Animals; 'Richard IV' in Black Adder; and the larger than life 'Squire Western' in the BBC's classic drama series Tom Jones.

On Film, Brian played 'Talthybius' in Trojan Women, 'Vultan' in the ever popular Flash Gordon; 'Long John Silver' in Return to Treasure Island; 'Lord Locksley' in Robin Hood Prince of Thieves with Kevin Costner,'Boss Nass' in George Lucas' Star Wars, The Phantom Menace, 'Clayton' in Walt Disney's Tarzan and 'Leonidas' in Oliver Stones' Alexander. More recently 'Duke Frederick/Duke Senior' in Kenneth Branagh's version of As You Like It.

Brian lives in Surrey with his wife, the actress Hildegard Neil. They share their home with numerous dogs, ponies, fish, cats, ducks and fish !! They have one daughter, Rosalind, who is also an actress.
Testimonials
We booked Brian Blessed as the guest speaker for our corporate Christmas lunch. All of the guests thought that he was an excellent addition to the party and thoroughly enjoyed the experience. The booking experience was simple and I would contact NMP Live initially when looking for next year's speaker.
The man was AWESOME! And produced one of the best performances we have seen in 15 years.
A huge thank you for the energy and fun you brought to the Bickley Park School Speech Day on Friday. Having recently so much enjoyed listening to 'Absolute Pandemonium' it was great to have a soupcon of pandemonium to enjoy in person on stage. I hope you appreciated the bearded greeting from the boys!
The evening was a complete success and the feedback from all the guests has been probably the best we have had so far... many people thought he was an inspiration... I have to start thinking about next year and how I can top this one"
Many thanks to Brian Blessed for helping to make our awards night a fantastic one. Brian was remarkable, and the most successful presenter we have had... Brian's overwhelming positivity gave the event something extra special
Brian went down an absolute storm last night! He got a standing ovation and then practically mobbed at the end with people wanting autographs and photos. He was a pleasure to work with.
Tags for Brian Blessed OBE
You may also be interested in...