Stephen Fry
Comedian, actor, writer, presenter, director and activist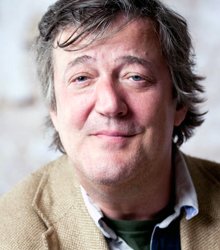 About
One of the pillars of British comedy and a considered by many to be a national treasure, Stephen Fry is also a successful actor, playwright, poet, television presenter, journalist, best-selling writer and an accomplished director.

His acting roles include the lead in the film Wilde, Melchett in the BBC television series Blackadder, the titular character in the television series Kingdom, a recurring guest role as Dr. Gordon Wyatt on the crime series Bones, and as Gordon Deitrich in the dystopian thriller V for Vendetta, Mycroft Holmes in Warner's Sherlock Holmes: A Game of Shadows and The Master of Laketown in Peter Jackson's Hobbit trilogy. He has also written and presented several documentary series, including the Emmy Award-winning Stephen Fry: The Secret Life of the Manic Depressive, and is also the long-time host of the BBC television quiz show QI. He played Prime Minister Alistair Davies in the 9th season of Fox TV's 24: Live Another Day.

Whilst at university, Stephen became involved with the Cambridge Footlights, where he met his long-time collaborator and friend Hugh Laurie. He emerged as a major talent with supporting roles in The Young Ones and Blackadder, before becoming one half of Fry & Laurie with Hugh. The two went on to film four series of PG Wodehouse's Jeeves & Wooster. Stephen won critical acclaim as the beleaguered but brilliant Irish wit in the Hollywood biopic Wilde. Maintaining a literary connection he went on to appear in Tristram Shandy and direct Bright Young Things, adapted from Evelyn Waugh's novel Vile Bodies.

Stephen has brought Harry Potter to life for millions having voiced all seven of JK Rowling's books for audio-book listeners, lifted a taboo with a TV series on depression and traced his roots in the BBC's hugely popular ancestry programme Who Do You Think You Are? He has also become television's most polished awards host and a favourite guest on countless panel shows.

As a proudly out gay man, the award-winning Out There, documenting the lives of lesbian, bisexual gay and transgender people around the world is part of Stepehn's thirty year advocacy of the rights of the LGBT community. As well as his work in television, he has contributed columns and articles for newspapers and magazines appears frequently on radio, reads for voice-overs and has written four novels and three volumes of autobiography, Moab Is My Washpot, The Fry Chronicles and More Fool Me. His latest book, Mythos, Stepehn's unique retelling of the Greek myths was published in November 2017.
You may also be interested in...