Weapons of Sound
Junk funk combo creating a rhythm from domestic paraphernalia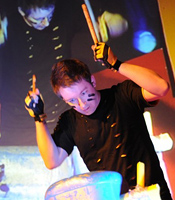 About
In January 1993 the Weapons of Sound junk funk extravaganza began its frenzied journey through the uncharted realms of all things bashable. Kitchen sinks, gas pipes, shopping trolleys, plastic barrels, scaffolding... nothing escaped in the initial clamour to build bold and beatable instruments.

Springing out of a series of workshops run by the Wren Trust, the group's developmental stages saw them appear on Channel 4's "The Big Breakfast" and at the Glastonbury Festival within just a few months of their conception.

Since 1993 the band have performed over 2000 gigs and led countless workshops, entertaining thousands of people with their unique brand of funk-fuelled junk percussion. Over 200 people have passed through the ranks, with just a handful of originals left in the current line-up. Today's Weapons of Sound is a professional crew of experienced workshop leaders and polished junk-percussionists who travel the world over entertaining and motivating audiences.

In recent years Weapons of Sound have performed at the Opening Ceremony of the 2002 Commonwealth Games, played by Royal Appointment at the Party in the Palace, launched the XBOX in Cannes, played Glastonbury and Reading Festivals to wide critical acclaim, spearheaded the national "Reth!ink Rubb!sh" campaign and given thousands of young people the opportunity to learn about how fun (and noisy!) recycling can be through their junk percussion workshops!
Testimonials
It's safe to say that Weapons of Sound are Britain's Greenest band!
Weapons of Sound are an event organisers dream!
Weapons of Sound's energy and entusiasm added so much to the atmosphere at our events.
We all enjoyed your workshops and performances and could have gone on all afternoon. The team gave your session one of the highest marks of the whole conference. A truly memorable and motivational experience.
Tags for Weapons of Sound
You may also be interested in...