Rainer Hersch
Musician and comedian often described as 'Victor Borge for a new generation'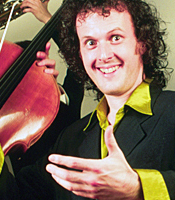 About
Rainer Hersch is a comedian and musician who has performed on every major comedy stage in Britain and abroad. He has appeared eleven times at the Edinburgh Festival; had numerous comedy-concert series at the South Bank in London; featured in comedy clubs all across Europe and in TV shows around the world.

Rainer's love for comedy and classical music began almost simultaneously, as did his need to share his passion with others. While still a schoolboy he developed a keen interest in Monty Python. He got permission to record their TV shows on the school's clunky video machine and would show them to his friends the following day during lunch break.

By the age of 12 he had already taken grades in the clarinet but was quickly drawn to the piano which he studied properly from the age of 14. This led to an obsession with piano music and, ultimately, a school concert society which he organised single-handed - presenting performances by Barry Douglas, later a winner of the Tchaikovsky piano competition, amongst others.

Rainer Hersch began his working life in the management of musical arts organisations. But the comedy had taken a hold and, unknown to his employers, he began moonlighting as a stand-up comedian on the London cabaret circuit. Short, unpaid slots in small clubs led to longer, paid appearances which in turn gradually developed into a parallel career.

Rainer slowly realised that this was his true vocation and in 1992 he apprehensively gave up his last job with a title, Touring Manager of the London Festival Orchestra, to enter the uncertain world of professional comedy.

Keynote Speaking
Rainer presents an engaging, structured module called "Peak Performance" - what can business learn from a symphony orchestra. He uses comedy, a PowerPoint presentation and plenty of musical examples to discuss the question of leadership as applied by a conductor. Starting simply on the theme 'what the hell does a conductor actually do?' Rainer goes on to touch on specific leadership challenges:

Communication; Building trust; Teamwork; Working in collaboration; Encouraging passion and commitment; Creating and communicationg a vision; Defining values; Leadership styles; Making best use of available resources; Managing the process of change; Guarding and enhancing the a reputation
Testimonials
Rainer, Standing ovations are something that our Nemo conference only gives once ever few years but the one received on Saturday night, couldn't have been more deserving to you & your orchestra. We had a wide age group to please & undoubtedly your brand/style of entertainment engages with your audience to ensure everyone goes away feeling good. Congratulations & very much appreciated.
Rainer, thank you so, so much for last night. You and the team went down an absolute storm. You have been the talk of the town today.
Thank you so much for putting on a fantastic performance last night and helping to make the Farmers Weekly Awards such a great success. The audience loved you and you really put them into a party mood that lasted all evening.
Your performance with orchestra was the highlight of the evening.
You may also be interested in...