The Noise Next Door
UK's premier comedy improv troupe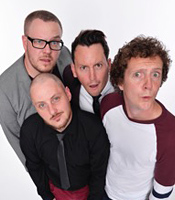 About
The Noise Next Door frequently headline at all the major clubs up and down the country and have sold out at the Edinburgh Festival for four consecutive years, leaving audiences in awe of their lightning-quick wit and breath-taking comedic talents.

They have been performing their own distinctive brand of off-the-cuff comedy since they met at university. With absolutely no script, they have an uncanny knack of transforming audience suggestions into fantastically funny scenes and songs in the blink of an eye with a perfect blend of ludicrous characters, witty one-liners, epic stories, and explosive physicality. Unstoppably funny and uniquely talented, The Noise Next Door are well on their way to becoming comedy's next big thing with their infectious and feel good brand of humour.

The Noise Next Door have appeared on BBC's The One Show, BBC Three and BBC Online. They have written music for ITV2's Britain's Got More Talent, and have also featured in several advertising campaigns (Kenco, Toyota, Clipdash).
Video
Click below to watch video footage of The Noise Next Door. To enquire further about The Noise Next Door for corporate and private bookings, please click here or call us on +44 (0)1372 361 004.
Testimonials
Considering booking The Noise Next Door for your event? You may find the following client testimonials and comments helpful. To enquire further about The Noise Next Door for corporate and private bookings, click here or call us on +44 (0)1372 361 004.
The Noise Next Door were fantastic. They gauged the audience well, capturing their attention with their laugh out loud act. The comments I have received from our customers and suppliers who attended has been amazing, it's always difficult booking an act for a biennial event as attendees want to see something different and this certainly fitted the bill, the only problem being how to better it for our 2018 event!Can I pass on particular thanks to Sam and the other lads, they made my life easier being calm and co-ordinated and a particular favourite of ours was when our MD was nominated to go on stage – this is still a topic of conversation a month on from the event.
Just a quick note to let you know the Noise Next Door were fantastic. Really well received by the audience and our client was very happy!
The Noise Next Door were brilliant last night. I don't know how they do it! Our audience were really impressed and thought they were hilarious!
Huge thanks to The Noise Next Door for coming and performing at our wedding last November, it went down a storm with everyone and I know that a huge number of guest have since been googling them to find out where they are performing and one is strongly considering getting in touch with you regarding her daughters 21st birthday. In short, they have made a number more fans.They had to wait patiently to perform as the day ran behind schedule (as they do), but they were brilliant.In any event, we are seriously grateful to them, do pass on our thanks, we will be seeing them again this year as soon as we can.
It was wonderful to work alongside The Noise Next Door, they are a professional,innovative, engaging and humorous team. They listened to the brief and discussedwhich parts of the day could be enhanced, thus greatly benefiting the outcome ofthe day. They were a delightful addition to the event team and I would not only begreatly privileged to work with them again, I would not hesitate to recommendthem to others.
A perfect tonic of originality and laughter after a busy day. The Noise Next Door are a breath of fresh, hilarious air to be highly recommended for a corporate event.
It was a pleasure to work with the Noise Next Door again this year - they were incredibly helpful throughout and flexible when faced with slight changes to plans and timings. The feedback I received from our guests on the night was all very positive so please do pass on our thanks to the guys - we will look forward to working with them again!
I just wanted to write to you to tell you about last night's show! The residents massively enjoyed it and I quote "best act that's been in the house"
Tags for The Noise Next Door