Visual Ministry Choir
Popular London-based British gospel choir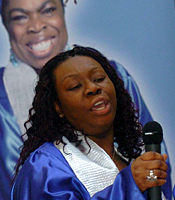 About
The Visual Ministry Choir or VMC for short, has been drawn together with some of today's leading vocalists and musicians to be found within the British Gospel Music scene in order to sustain its ranks of unbridled talent and ability.

On stage, their unique vocal ability has become an asset by comparison with other choirs of the same genre. Evidence of this fact can be seen by a list of accomplishments that continues to grow with credibility and respect including an abundance of television appearances such as: The Michael Barrymore Show, The Big Breakfast, Sky 1's The Dream Team, The Lee Evans Show, The Generation Game with Jim Davidson, The Eleventh Hour, Saturday Night Live, The Mag, London Tonight, The Jonathan Ross Show, Songs Of Praise, Sunday Morning Programme for Anglia TV, Channel 5s Alpha Zone, EMMA Awards, and Wogan.

The VMC has also supported a variety of recording artists both in the recording studio, on stage as well as in front of the television cameras including: Carlene Anderson (Children In Need), Basha, Sarah Brightman & Duran Duran (New Years Live Show BBC), Terry Callier, Mariah Carey (Top Of The Pops), Dina Carol, Cleopatra (Cleopatra In The House) Coolio (Top Of The Pops), Gloria Estafan (The 1996 Theme Song For The Olympics), Jools Holland (Tonight With Jools Holland), Jane McDonald at The Royal Albert Hall and finally they appeared on the video of top boy band Westlife on their number 1 hit single Flying Without Wings.

The Choir have performed alongside Chaka Khan, Roger Daltry, Jeffrey Osbourne and Gladys Knight at the Royal Dublin Society in Ireland in front of the President of Ireland in an exciting and spectacular reworking of the Handel's Messiah. However, in spite of the above plaudits, the VMC has ensured its place in musical history when they appeared on Perfect Day, a song that sold over 1.7 Million copies in aid of the charity Children In Need and featured such prominent artists as: Joan Armatrading, Bono from U2, David Bowie, Boyzone, Elton John and Tom Jones to name but a few.

VMC recently embarked on a Christmas Tour with Coca Cola throughout the UK. Indeed, these events have moved the VMC on to another level of achievement, something that has so far been the hallmark of their success.

Furthermore, the diversity of talent and style as possessed in depth by the VMC means that their ability to sing in a moving traditional style or in line with today's growing trend for a more contemporary sound, will not prove to be a hindrance or stumbling block to anyone seeking to use the sounds of a gospel choir whatever the purpose or occasion. Needless to say however, the result will always prove to be the same time and time again... Outstanding!
Video
Click below to watch video footage of Visual Ministry Choir. To enquire further about Visual Ministry Choir for corporate and private bookings, please click here or call us on +44 (0)1372 361 004.
Testimonials
Considering booking Visual Ministry Choir for your event? You may find the following client testimonials and comments helpful. To enquire further about Visual Ministry Choir for corporate and private bookings, click here or call us on +44 (0)1372 361 004.
Just a note further to say thanks so much to Visual Ministry Choir for being fantastic this weekend. The guys were really great - very accommodating, and easy to work with. The logistics of the event were quite tricky in the end, and the choir's flexibility really helped with the smooth running of the event - to top it off the actual singing and performance was beautiful and very uplifting.
I really enjoyed your singing at the dinner party!
You may also be interested in...