Hayley Westenra
UK-based New Zealand classical singing sensation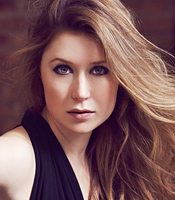 About
Hayley Westenra was born and raised in Christchurch, New Zealand. Singing was always her passion. From practising at home in her room, to busking on the city streets, she was always acutely aware of what she loved and what she wanted to do with her life. Sing. That early diligence and hard work paid off when she signed her first international recording contract with Universal Music in the UK at the tender age of 14. Her first release, Pure (2003), then became the fastest selling international debut album in the history of the UK classical charts.

With successive albums, Odyssey (2005), Treasure (2007) and River of Dreams: The Very Best of Hayley Westenra (2008), Hayley proved that that early success was no fluke; she has sold over 4 million albums worldwide. Her album, Paradiso (2011), took her status to a new level, when she collaborated in Rome with legendary film composer Ennio Morricone and his Orchestra Roma Sinfonietta. Her album, Hushabye, was released in June 2013. The record features Sleep On, a lullaby specially written to commemorate the birth of Prince George by acclaimed composer Paul Mealor. In fact, Hayley has been personal songbird to Her Majesty The Queen and has sung for both Princes William and Harry.

Hayley has also performed at many prestigious sporting events, including the world games (Taiwan 2009), football (the FA Cup Final), baseball (the MLB in the US), tennis (the Mercedes Cup in Los Angeles) and rubgy, with her proudest moment - singing the New Zealand national anthem at the Rugby World Cup Final (2011) in support of her much-loved All Blacks.

Since the release of Paradiso, Hayley has had the honour of appearing in front of HRH The Princess Royal at the Royal Variety Performance; she was the special guest on the Operastar 2012 series finale in Seoul, South Korea; and she performed at the closing ceremony of the Second Beijing International Film Festival with the Royal Philharmonic Concert Orchestra.

Despite her busy career, Hayley works tirelessly for charitable causes whenever she can. She was one of the youngest ambassadors for UNICEF when she first stepped into the role in 2005. Her special project was Bikes for Ghana, raising money so girls could ride to school.
You may also be interested in...