Vassos Alexander
One of the UK's best-known and respected sports broadcasters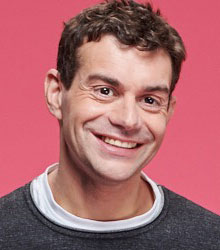 About
One of the best-known and most respected sports broadcasters in the country, Vassos Alexander is an integral part of the Chris Evans Breakfast Show on Radio 2 and a regular on Radio 5Live and BBC TV.

Vassos is one of the best-known sports broadcasters in the country. Every morning he's heard by ten million people as an integral part of the Chris Evans Breakfast show on BBC Radio2. He can also be seen presenting an evening show on BT Sport, and is often heard commentating on BBC Radio and Television.

Vassos has covered almost every sporting event you can think of - from the Olympics to The Ashes, Wimbledon to Wentworth, the World Cup to the World Darts and interviewed most of the big names in sport. He's also a keen runner who's completed several 3-hour marathons, an Ironman triathlon (2.4m swim, 112m bike, 26.2m run) and has recently discovered the joys of fell running. In fact, he is such a convert to the powers and wonders of running that he is writing a book about it which will be on our shelves in Spring 2016.

Vassos Alexander is a confident, entertaining and experienced event host and interviewer.
Speech Topics
Vassos Alexander is always delighted to appear as an after dinner speaker, talking about experiences from his extensive career, behind the scenes from great sporting events and the inside story on sports broadcasting.
You may also be interested in...