Eamonn Holmes OBE
One of the most recognised faces in British broadcasting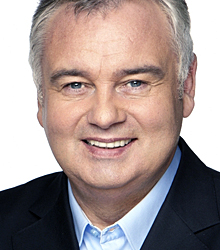 About
Eamonn Holmes is the longest serving Breakfast Television Anchor in The World. He is the most experienced and accomplished Live Television Presenter in the UK, having hosted live daily programmes for 36 years. Nobody in British Television today has such a record or expertise.

At the age of 19 Eamonn became Ulster Television's joint Sport and Farming Reporter – an interesting combination but something which signaled the variety that he has become known for ever since.

Credibility and versatility are what you get with Eamonn, now one of one of the most recognised faces and voices in British broadcasting.

By way of UTV's Good Evening Ulster where he became the UK's youngest ever Teatime Anchor at just 21, Eamonn was in 1986 poached by the newly launched BBC Daytime Service and a two hour daily magazine programme called "Open Air". Hosting BBC 1's Holiday programme together with a range of Prime Time BBC Sporting Events,

Eamonn's reign as the king of breakfast television began with the launch of the newly created GMTV in 1993, which he presented for 13 years. That was followed by 11 years Anchoring "Sunrise with Eamonn Holmes" on Sky News where his approach earned the Channel a whole new audience and Eamonn much professional acclaim.

Outside of his early starts, he continues to host a wide variety of programmes on both TV and Radio including The Top rated Channel 5 Documentary Series "How The Other Half Live's" with his wife Ruth Langsford. Indeed Eamonn & Ruth also regularly co-host ITV1's "This Morning" and are in demand on many other shows and as Columnists for Newspapers and Magazines.

Eamonn won the Television, Radio & Industry Club's award for Best Satellite and Digital TV Personality for three years running and has received honorary doctorates from Queens University Belfast and Staffordshire University.

Father of four Eamonn is a News and Sports junkie and a passionate Manchester United fan but more than that, he has a great knowledge and love of Football, as well as several other sports. He divides his time between Belfast which is home, London where he Lives and works and Manchester, where he worships!

Eamonn was awarded an OBE in the 2018 New Year's Honours List for services to broadcasting.
Exclusive Interview
As part of our NMP Live Meets... interview series, Eamonn Holmes OBE took time out of a busy schedule to sit down with us for an exclusive chat. Watch the video below and find out what he can bring to your event.
Tags for Eamonn Holmes OBE
You may also be interested in...