Gabby Logan MBE
ITV football presenter and former Commonwealth Games gymnast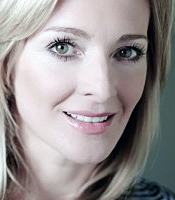 About
Gabby Logan has established herself as one of the most talented sports journalists and television presenters in the UK, with notable achievements including being the first woman to present a live terrestrial football match, presenting both the football and rugby World Cups for ITV, winning three TRIC awards and being the first ever host of the televised BAFTA Craft Awards for the Millennium.

So how did Gabby make the transition from a Commonwealth Games Rythmic Gymnast to principal football presenter? Just how difficult was it making her way up the broadcast ladder as a woman in a man's world?

BA Honours Degree (Law 2:1) Durham University (1995)
Yorkshire Woman of Achievement Awards (1999)
RTS Award - Best In Vision Person (1999)
TRIC Awards - Best Sports Presenter (2000)
Cosmopolitan Woman of Achievement (Media) Award (2000)
Yorkshire Young Achievers Awards (2000)
TRIC Award - Sports Personality of the Year (2002)
TRIC Award - Sports Personality of the Year (2004)

Gabby was awarded a MBE for services to broadcasting and promoting women in sport in the New Year Honours List 2020.
Speech Topics
In between Gabby Logan's broadcast work and writing her column for The Times, she is much in demand for award ceremonies, motivational speaking and personal appearances, where she talks of her experiences from a lifetime spent in a male-dominated sporting arena; the motivation needed to reach the top of her chosen profession and then to stay there; the teamwork required to be able to present a programme such as the Champions League Final and the leadership skills she uses to make everything run smoothly in front of the cameras.

Gabby, who has a law degree from Durham University, has a wonderful gift of seeing the funny side of life and has a fund of behind the scenes anecdotes from both football and rugby, particularly from the Rugby World Cup, which she presented from Australia in 2003.

Gabby Logan has been professionally trained in speaking by Straight Talking and fully appreciates the links between success in sport and success in business. She is available for Motivational and After Dinner Speaking, Hosting & Facilitating Conferences and Hosting Awards Ceremonies.
You may also be interested in...