Trevor Phillips OBE
Former Chair of Equality and Human Rights Commission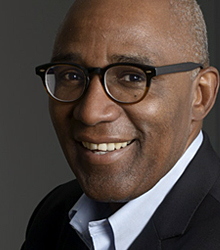 About
Trevor Phillips was born in London in 1953. His parents, wanting him to have the best education, enrolled him at the Queen's College Boys School in Guyana, resulting in him spending the ages between 2 and 17 in either Guyana or London.

Despite offers of a scholarship to MIT, he picked Imperial College, London to study chemistry. In 1978, he became the first black president of the National Union of Students. After university, he applied for a job as a researcher in Current Affairs at London Weekend Television. He then presented and produced 'The London Programme' for thirteen years, and later became head of Current Affairs at LWT, one of a small number of black senior executives of major British broadcasting organisations.

In 1998, his independent production company, Pepper Productions produced the Windrush series, chronicling the history of black people in Britain over the last 50 years. He has been chairman of the Runnymede Trust, an independent race relations think-tank and campaigning body, and in 2000, he ran for the position of Mayor of London. He didn't win, but became a member of the GLA.

In 2003 Trevor Phillips was appointed by the Home Secretary to be the chairman of the Commission for Racial Equality. Upon its abolition in 2006 he was appointed full-time chair of its successor, the Equality and Human Rights Commission (initially called the Commission for Equality and Human Rights), which had a broader remit of combating discrimination and promoting equality across other grounds (age, disability, gender, race, religion and belief, sexual orientation and gender reassignment).

The EHRC also had the role of promoting and defending human rights, and secured recognition as the national human rights institution for Great Britain (alongside separate commissions in Northern Ireland and Scotland).

Trevor Phillips has spoken on the need for free speech to "allow people to offend each other". These comments came after the protests against the Danish cartoons satirising the Prophet Muhammad which sparked protests in the Muslim world. He stated in an ITV interview: "One point of Britishness is that people can say what they like about the way we should live, however absurd, however unpopular it is". Whilst supporting free speech, Phillips has spoken out against providing the far right with a platform.
Tags for Trevor Phillips OBE
You may also be interested in...