Sir Trevor McDonald OBE
BAFTA winning journalist, news reader and TV presenter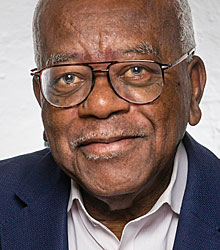 About
Sir Trevor McDonald OBE was born in Trinidad where his career in the media began. On his first major assignment, he was dispatched to London in 1962 to report on talks which culminated in setting a date for Trinidad's Independence.

Trevor returned to London in 1969 to work as a Producer in the BBC Overseas Regional Service. He went on to produce Current Affairs programmes for the BBC World Service. In 1973 he joined ITN as a General Reporter. His first major assignment was in Northern Ireland where he covered the Province's ' troubles' for more than a decade. He also reported from Dublin, Rome, Brussels, Strasbourg and Luxembourg on negotiations about the terms of Britain's membership and earliest days of the then Common Market - now the EU.

Covering sport and politics Trevor McDonald travelled to Argentina, Australia and the West Indies before becoming Diplomatic Correspondent and Presenter of Channel Four News in 1982. In that capacity he reported from every Continent, covering events and conducting interviews in Egypt, Israel, Syria, Lebanon, Libya, India, Pakistan, Japan, New Zealand, Mexico, South Africa, the Soviet Union and Hong Kong. He also worked extensively in the United States reporting on events at the United Nations during the Falklands War, as well as covering a number of Presidential and Congressional Campaigns.

As an ITN Presenter, Sir Trevor has anchored every ITN News programme - from what used to be the News at One, News at 5.40 and 6.30 to the flagship and award-winning News At Ten.

He became Diplomatic Editor in 1982 and in 1990, after several visits to South Africa, went back to Johannesburg to report on Nelson Mandela's release and to do the first British TV interview with the ANC leader. In November that same year, just before the start of the first Gulf War, he did the first and the only British TV interview with Saddam Hussein. In the ensuing years at ITN, Trevor McDonald conducted the most important television interviews of his time: with Colonel Gaddafi, Yasser Arafat, President Bill Clinton and Secretary of State Colin Powell, along with a number of American Presidential candidates.

Trevor became the first solo Presenter of News At Ten in 1992 and anchored the late news until the end of 2005. By then he had received more awards than any other news broadcaster in Britain. He was named Newscaster of the year in 1993, 1997 and 1999 and has regularly topped the polls as the most authoritative and trustworthy news presenter.

From 1999 to 2007 Sir Trevor McDonald presented ITV's flagship current affairs programme, Tonight, during which time he twice interviewed President Bush and political figures like Tony Blair and Hilary Clinton. More recently he has presented a number of documentaries for ITV1, including Secret Caribbean, Secret Mediterranean, The Mighty Mississippi and Inside Death Row.

He serves as Patron, Chairman, President or Vice President in a number of charities including National Children's Homes, the Shooting Star Children's Hospice, the Friends of Barnes Hospital and De Paul Trust. He travelled to many parts of the country in his capacity as Chairman of the Better English Campaign and has been involved in a number of campaigns to encourage young children to read more widely, and speaks regularly to schools and colleges.

Trevor McDonald was awarded the OBE in 1992 and was awarded a Knighthood in 1999.
Tags for Sir Trevor McDonald OBE
You may also be interested in...