Mark Durden-Smith
One of Britain's most versatile television presenters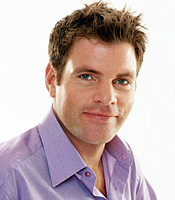 About
Mark Durden-Smith is one of Britain's most versatile television and corporate presenters.

Following his regular Aviva Premiership Rugby anchor duties, Mark was one of ITV's main hosts for their Rugby World Cup 2015 coverage. He has previously hosted Sky Sports Centre and fronted Sky's BAFTA winning rugby coverage.

In 2015, Mark hosted ITV1's gameshow Freeze Out. He has presented ITV's flagship show This Morning, and has been a regular newspaper pundit for ITV's Lorraine. Mark also guest presented for The Breakfast Show (BBC London Radio).

Mark was the anchor for the launch of RI:SE, Channel 4's breakfast show. He has presented ITV2's I'm A Celebrity Get Me Out Of Here Now, The Underdog Show (LIVING) and Gutted (Home). Mark has also hosted ITV1's holiday series Wish You Were Here – Now and Then and has also fronted ITV1's Boat Race Coverage which was nominated for a Broadcast Award. Other presenting credits include: The Match (Sky One), Millionaire Manor (BBC1), ITV2's Hell's Kitchen Extra Portions and Package Holidays Undercover (ITV1).

Mark's writing credits include a regular column for Metro Newspapers as the 'Voice of O2' for the England Rugby Team at the Rugby World Cup.

Mark is one of the most experienced corporate hosts on the circuit. He has hosted a huge variety of events with great success. His charisma, enthusiasm and competence as host and facilitator have impressed and delighted corporate clients, many of whom continue to invite him back year after year.
Tags for Mark Durden-Smith
You may also be interested in...