Dermot O'Leary
TV and radio presenter (X Factor, Radio 2)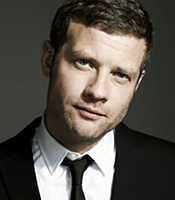 About
There aren't too many like Dermot O'Leary when it comes down to on-screen energy. Whether he's bouncing off the Big Brother walls or head banging on Recovered, Dermot is definitely the right man to keep up with the Born to Win boys and girls.

Dermot has always been a bit of a sportsman. In his youth he constantly played rugby and American football which meant he had little time for anything else, even the ladies. But he admits that might have had something to do with his 'public school haircut', which was ceremoniously chopped off after a dodgy visit to the barbers.

Now rated as the 14th sexiest man on the planet, it obviously did the trick. Despite being a big hurling fan, nowadays Dermot's runs down the wing have had to make room for his presenting work.

Starting as a DJ on BBC Radio Essex, he became a runner and progressed to a researcher on C4's Light Lunch where he also did the warm up slot. After a screen test he moved onto T4 and now presents Big Brother's Little Brother along with a number of other projects.

He owns his own production company called Murfia and has also presented SAS: Are you tough enough? and Dermot's Sporting Buddies.
You may also be interested in...