Marcus Bentley
Voice-over artiste best known for Channel 4's Big Brother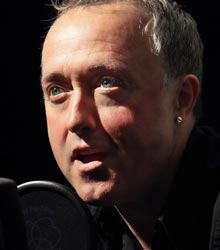 About
Marcus Bentley is most famous for narrating the UK version of reality show Big Brother since its inception. He also did other continuity announcements for Channel 4 until he left in July 2011 to continue narrating the revived Big Brother on Channel 5.

Marcus' voiceover work has led to his heavy Geordie accent becoming one of the most recognised voices in the UK. His unmistakable warm tones mix humour and compassion with authority to make him the best known and loved voice currently heard on the airways.

He has also appeared on stage and in TV shows; The Bill and London's Burning. Although he rarely makes public television appearances, Marcus' public profile has been raised since Big Brother's Channel 5 revival. Marcus has extended his repertoire by playing quizmaster for 'Dirty Money' on Sky, he was the voice chosen by the BBC to promote the proms this year both on TV and radio, and has been in demand to voice documentaries and commercials across the country.
You may also be interested in...