Toby Anstis
Heart FM DJ, actor, radio and television presenter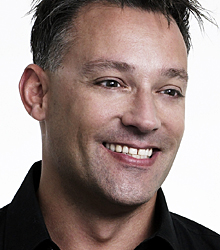 About
Toby Anstis presents the morning show Monday to Friday nationally on the Heart network across 33 stations. This is the most listened to commercial show in the UK attracting 3.3 million listeners. On Saturdays he indulges in a London only morning show.

2010 saw Toby take to the West End stage for the first time starring as Teen Angel and Vince Fontaine in the smash-hit musical Grease. Toby sung to sell out audiences to join an amazing cast and received critical acclaim.

In 2007 Toby committed to Killer In Me on ITV. The show saw four celebrities take part in a groundbreaking DNA test that revealed the secret killers lurking in their genes. Toby agreed to take part with Fiona Phillips, John Barnes and Andrew Neil. They found out their risk of developing 11 major diseases, including cancer, heart disease and Alzheimer's. Toby also acted as a judge on VH1 and MTV'S search for new girl band Wannabee.

Toby ended 2006 taking part in I'm A Celebrity. Toby was also part of the presentation line up for BBC 1's Dancing In The Streets with Bruce Forsyth and Zoe Ball. He voiced the live commentary for the show. In 2006 Toby was part of the judging panel for Britain's Next Top Model and won his heat on The All Star Talent Show. Toby loves to dance with his heart on his sleeve and because he has been short of a lesson or two won 60% of the public vote! Toby's happy to say he only came third in the final.

In 2005 Toby presented a nightly show from Cyprus over a two week period called Trust me I'm a Holiday Rep for Five, which proved a ratings success.

Prior to this Toby has hosted two series of TV Scrabble for Challenge TV. Based on the popular board game TV Scrabble was Challenge TV's most successful game show for the time.

Toby is also an experienced compere and DJ- he has hosted a number of prestigious events including numerous award ceremonies, Elton John's New Year's Eve 2009 concert at the O2 Arena and the world premiere of the 'Mama Mia' movie in Leicester Square.

Toby made his name on television hosting BBC TV's The Ozone, entertainment show The Electric Circus on BBC1 as well as the National Lottery Live. He presented cricket films for Grandstand as well as live coverage of Party In The Park for ITV2 and Reading Festival. He has also been one of the main OB presenters for Children in Need on BBC1 for two years running.