Pat Sharp
Award-winning radio broadcaster and television presenter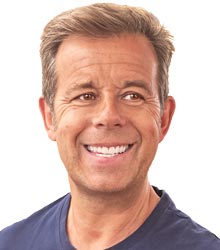 About
Pat Sharp presented his first daytime strip show for BBC Radio 1 at just twenty years of age. Following a year on air, plus numerous Top of the Pops TV appearances, he then went on to host mid mornings at 95.8 Capital FM for a decade.

Along the way he picked up a gold Sony award whilst also notching up 7 hit singles and raising over £300,000 for charity as part of the infamous Stock Aitken Waterman duo 'Pat & Mick'. He then took his mid morning slot to number 1 again, as part of seven successful years at London's Heart FM, becoming the only presenter ever to rate number 1 on mid mornings in London on two different stations.

Over the years his radio shows have also been broadcast on BFBS for our troops worldwide, along with in-flight entertainment aboard Swissair & Virgin. Pat presented 'Drivetime' on Global's Heart in Cambridge for 3 years, along with the European syndicated show 'The Weekend Vibe' which airs across the UK & around the world as far afield as Dubai. He also makes regular appearances on BBC London 94.9 and various other stations as a freelance host.

On television, Pat Sharp hosted the #1 now cult rated ITV show FunHouse for 12 years, which repeats every weekend, even now, on Sky / Challenge television, along with other ITV shows including the Saturday morning spectacular What's Up Doc?, 10 Sharp, The Gala Opening of Disneyland Paris' plus Sky One's UK Top 40 and many others, not to mention being the pioneer host of Sky Channel's first pop video shows (Skytrax) shown across Europe via satellite and cable throughout the 80s.

Pat Sharp won the DJ special of The Weakest Link raising £13,000 for charity. His appearance on Channel 4's The Games earned him great respect from viewers and fellow contestants alike, as he was proclaimed 'The People's Hero'. In 2011 Pat Sharp swapped life behind the microphone for life in the jungle as he joined ITV's 'I'm A Celebrity Get Me Out of Here' Pat joined US actress Stefanie Powers, Mark Wright, Dougie from McFly and Willie Carson amongst others. After one of the most successful and talked about series for many years Pat emerged from the jungle after competing with Fatima Whitbread in one of the most grueling Bush Tucker trials ever.

Pat hosted and performed to a sell out crowd live at London's O2 Arena with Pat & Mick as part of Pete Waterman's Hit Factory Live extravaganza. He was also the support act for the Bros reunion gigs as the O2, plus He is also compere for the UK's 'Let's Rock' & 'Rewind' summer 80's festivals. He also plays yearly at Snowbombing in Austria.

On both TV & radio he has voiced commercials for Pampers, Warner Bros Cinemas, Sodastream, Rice Krispies Squares, The Daily Mail, Branston Pickle & Surf.

With 35 years live TV, radio and hosting experience, Pat Sharp still attracts more and more new fans both old and young alike
Performance
Awards Hosting, Presenting, DJ Sets & After Dinner Speaking
As one of the UK's most recognised DJs and TV presenters, Pat Sharp is in huge demand for hosting corporate awards ceremonies, hosting black tie gala evenings and making voice-of-god announcements for live events.

Pat also hosts many live PAs and corporate events across the UK, throughout Europe and in the Middle East where he plays for tourists in Mallorca, Ibiza, France and Austria along with his now world famous DJ sets at retro nights in Norway, Spain, Oman & Dubai. Pat was the DJ of choice for Ant & Dec's joint 40th birthday party at The Roof Gardens in London.

Thinking of staging your very own corporate Funhouse event?
This full-on show is a personal appearance with Pat's ultimate party DJ set and the original twins (Melanie and Martina) also on stage helping him play interactive games with selected members of the audience.

Always wanted to be a contestant on the show as a kid? This may be your big opportunity!

Please note, Pat Sharp does NOT bring the actual Funhouse from the TV shows, as it sadly no longer exists, nor does he have the fun karts because they lost their licences! However, if you want your next event to go with a swing and make it a night to remember, then this is the show for you. Speak with one of friendly agents for further details.
You may also be interested in...