Peter Dickson
The most recognisable voice on British television (X Factor, BGT, E4, etc)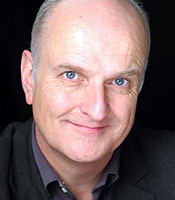 About
An overnight success after 35 years, Peter Dickson makes big award winning shows like The X-Factor, Britain's Got Talent, Family Fortunes, The Paul O'Grady Show, The National Television Awards and Chris Moyle's Quiz Night what they are.

His voice is now well and truly cemented in the public conscience. At 17 he became the youngest TV news presenter in the history of the BBC before landing his own Radio 2 series and working with some of the greats of British comedy, music and entertainment.

Peter Dickson became a staple of Steve Wright's legendary BBC Radio shows in the 80s and 90s, before jumping ship from the Beeb to launch Melody Radio, now Magic, in London where he presented the breakfast show.

Kylie, P.Diddy, The Black Eyed Peas, Rihanna, Sir Paul McCartney, Ozzy Osbourne, Leona Lewis, Harry Enfield, Paul Whitehouse, Reeves and Mortimer, Vernon Kay, Ant and Dec, Harry Hill, Paul O'Grady, Chris Moyles, Scott Mills, Greg James, Leigh Francis, Dermot O'Leary, Lee Mack, Kevin Bridges, Jason Manford, Lee Evans, Jimmy Carr, Les Dennis, Jerry Springer, Michael McIntyre, Dara O'Brian, Brian Conley, Angela Landsbury and the great Brucie himself have all turned to Peter when they've been in need of a voice that truly delivers.

Peter was Steven Spielberg's first call when he needed to create impact for Microsoft's initial Kinect game - "Kinect Sports" for the X Box 360 Kinect launch at E3. And when Lord Simon Cowell demanded a voice that mattered on The X-Factor, there was only one contender. Blimey – to many people Peter Dickson is The X-Factor – Accept no substitutes!

Peter Dickson is available for awards hosting, presenting and Voice of God for awards ceremonies, corporate dinners and conferences.
Testimonials
I have invoices for 3 expensive mic pre amps he has completely destroyed by shouting too loud! Does he think I'm made of money?
He has just been voted as one of the top 3 iconic voices in Britain.
He has a voice to die for. Apparently they're all buried under his patio. Legend.
You know who the best voice is on the X Factor? It's Voiceover Man!