Ed Byrne
Brilliant Irish comic. As an observational stand-up, considered unrivalled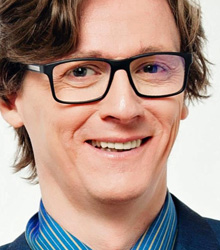 About
Ed Byrne is unrivalled as an observational stand up. His material may come from everyday life - mobile phones, nicknames, relationships and the like - but his skill at identifying the absurdity within the subject and applying his eloquent wit is anything but commonplace. Unlike others on the circuit, Byrne doesn't fall back on any concept of Irish charm. With his material, he doesn't have to.

If you haven't seen him for a while, you might find he's a little more vitriolic than in the past, but the insouciance is still around and about. A regular performer in places as diverse as Dubai, Dublin and Singapore, he certainly has plenty of experiences to consider, but whether he'll hone his remarks into a 22-carat one-liner or set off into a grade A rant all depends on how he's feeling on the night.

Byrne has performed six total sell-out Edinburgh Festival runs and three sell-out UK tours. He has also developed huge success on the international circuit where he has performed to capacity audiences in Canada, France, Australia, New Zealand and USA.

After making his TV acting debut on the sitcom phenomenon, Father Ted , Ed has since garnered a raft of major broadcast credits , including five US appearances on Late Night With Conan O'Brien (NBC). But like all great comedians whose first passion was - and ever shall be - he saves his best stuff for the stage.
You may also be interested in...