The F2 Football Freestylers
Global social superstars with over 6 million Youtube subscribers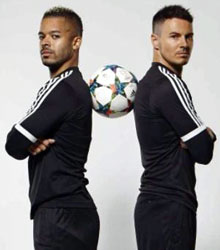 About
Having opened the show at the World FIFA Ballon D'or, Billy Wingrove and Jeremy Lynch knew that they have something unique. With much thought, two of the best in their field have come together to officially launch The F2. Billy & Jeremy spend hours each day perfecting choreographed routines to make sure that no matter who watches, everyone will be amazed! They believe that performing together as a double act is twice as entertaining on the eye, plus twice as difficult! The F2 is a groundbreaking concept created by these two football experts which never fails to excite, amaze and at times completely baffle audiences. With an ingenious blend of technical difficulty, stunning synchronisation, brilliant choreography and showmanship, the F2 design and choreograph the best football show in the world!

Billy Wingrove
Billy is one of the most experienced football freestylers in the world. Starting professionally in 2003, Billy has experienced almost every avenue within freestyle including live performances at the World Cup in front of 300,000 people, being the first freestyler to be signed to a professional Football Club (Tottenham Hotspur FC), holding 3 Guinness world records within Football Freestyle, being the first freestyler to have a tutorial DVD, choreographing adverts with the likes of Messi, Ronaldo, Torres, Del Piero & the whole Manchester United squad. Billy has brought awareness to football freestyle throughout the world gaining over 40 million hits on you tube. In this perfect partnership with Jeremy Lynch, Billy will bring his wealth of experience, professionalism and knowledge to The F2 team.

Jeremy Lynch
Jeremy is widely regarded as one of the best football freestylers that has ever been. After being inspired by watching a Nike commercial in 2000 with Edgar Davids and Denilson, Jeremy started doing tricks and it has taken him around the world. He was one of the stars in the biggest UK documentary of all time "In the Hands of the gods". He won the hearts of the nation when he was a finalist on Britains Got Talent 2008. He has become a YouTube phenomenon with his videos racking up over 20 million hits. He has filmed videos with the likes of Christiano Ronaldo, Robinho and Nani, and worked with some of the worlds best players including Cesc Fabregas, Ronaldinho, Robin Van Persie, Drogba, Samir Nasri, Theo Walcott and Wayne Rooney to name a few! Jeremy will bring his charismatic charm and entertaining genius to The F2.
Testimonials
The F2 are unbelievable – what they do is not possible!
How are The F2 not playing in The Premier League.
The F2 United boys were great - everyone loved them, and were all very impressed. They were lovely people and were sociable and amiable. It was a genuine pleasure to have them with us.
You may also be interested in...