Dual Freestyle
Freestyle football duo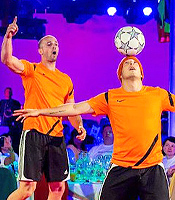 About
Daniel Cutting and Mark Harlow are two of the UK's finest Professional Football Freestylers.

Having been successful as solo freestylers for a number of years, they decided they wanted to push themselves and create something fresh and new. Daniel and Mark both saw a unique opportunity to turn football freestyle into real entertainment. In 2011 they teamed up to form "Dual Freestyle" and since then, have captivated audiences around the world with their skills. They have an amazing ability to perform at the highest level in high pressure situations and a key part of what they do is based on interaction and engagement with any audience, making them the perfect entertainers for your event.
Video
Click below to watch video footage of Dual Freestyle. To enquire further about Dual Freestyle for corporate and private bookings, please click here or call us on +44 (0)1372 361 004.
Testimonials
Considering booking Dual Freestyle for your event? You may find the following client testimonials and comments helpful. To enquire further about Dual Freestyle for corporate and private bookings, click here or call us on +44 (0)1372 361 004.
Daniel and Mark's performance (as Dual Freestyle) was the perfect way to begin our event. They were lively, creative and very professional in the way they conducted themselves when interacting and engaging with people! We will definitely book them again next year!
I have worked with Daniel and Mark at a number of corporate events where they were employed to help our company get attention in a sea of passerby's. I'll tell you what – having professional Football Freestylers on staff surely did the trick! Having Dual Freestyle on our team was truly our best Marketing plan ever. Not only sre they excellent at their football tricks, but are also good at talking to people, pitching the company line and encouraging attendees to stop by and have a conversation. We have now flown them to Barcelona, New Orleans, Boston and Singapore and can confidently say that they are reliable, professional and excellent at their trade. I would not hesitate to recommend them to anybody who was considering hiring them. They truly are pro's.
It was a pleasure to have Dual Freestyle come to our School. The children were throughly entertained during their shows, and learnt loads of skills through the workshops. I would recommend Dual Freestyle toany school, and know all the children went home to show off their new talents
You may also be interested in...