Signature
Michael Jackson / Bhangra dance duo. Runners up – Britain's Got Talent 2008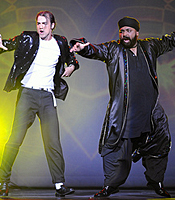 About
Signature are like nothing ever seen before on a talent show, incorporating classic Michael Jackson choreography, with a touch of Bhangra dancing along with their own unique moves, they completely took the audience by surprise in their first audition for Britain's Got Talent in 2008.

Otherwise known as Suleman Mirza and Madhu Singh, they have been dancing together since 2001, performing at corporate events, award shows and on television shows. Their appeal comes from Suleman's Michael Jackson tribute, often dancing to classics such as Billie Jean and Thriller, followed by Madhu joining the performance part-way through to incorporate Bhangra dancing.

After their audition on Britain's Got Talent they were favourite to win the show but were beaten by George Sampson in the final and came a respectable second place.

Their unique and enthusiastic approach to dancing, gives a breath of fresh air to well known Michael Jackson moves such as the moonwalk and their style of pop mixed with banghra is something audiences just cannot get enough of.
Testimonials
Signature were amazing. Definitely recommend them.
You may also be interested in...