Terry Alderton
One of Britain's finest comic talents (Michael McIntyre's Comedy Road Show)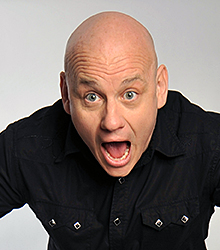 About
Peeking inside the Technicolor mind of one of Britain's finest comic talents and you will find him desperately doing battle with "The Voices", two unpredictable and hilarious Voices in Terry's Head. Though often a challenge to Terry these two different sides of his ego/conscience often lead him into unpredictable comedy routines. No two shows are ever the same!

Terry Alderton is one of the most exciting comedians around, regularly performing all over the globe. Terry has been Perrier nominated in Edinburgh and recently won the 3 Weeks Critics award as well as Best International Act at the New Zealand Comedy Festival. This frequent travelling has meant performing alongside some of comedy's biggest stars.

Michael McIntyre has found Terry as a source of inspiration. He has recently worked with Joan Rivers who became an instant fan and Eddie Izzard who proclaimed him to be a 'very funny comic with a fantastic comedy mind', but someone who really ought to seek some sort of professional help.

Terry starred in The BBC's Michael McIntyre Comedy Road Show, SKY One's The Match 2004, a regular fire fighter in ITV1's London Burning in 2002, and also hosted in his own radio show, 'Terry's Turnstiles' on London's Capital Radio FM. Terry also hosted the BBC's National Lottery, 'Red Alert', with Lulu for the BBC Joy of Text (BBC1) Winning World Cup Tickets (ITV1) It Shouldn't Be On TV (Sky1) Bleeding Thumbs (BBC2) Game Stars (ITV1).

Other television appearances have included playing a yardie gangster in 'Lock, Stock and Two Smoking Barrels' (Channel 4), Jeff Wade, a Huntington Disease sufferer in 'Holby City' (BBC) The Bill (ITV1) Waking the Dead (BBC1) , 'Ian Wright's Friday Night's All Wright' (ITV), 'Stupid Punts' (BBC2), The Stand UP Show (BBC1) The World Stands Up (paramount) World Comedy Tour Australia(paramount) Question of TV (BBC1) Shoot The Messenger (Paramount) , Saturday Live (ITV),Night Fever (Channel 5), two series of The Comedy Store (Channel 5) The Lads ITV Jack Dee's Sunday Service. Bring me the head of light entertainment (CH5). The Harry Hill Show (CH4). The Jonathan Ross Show. Edinburgh or Bust (CH4) Wogan BBC. Des & Mel (ITV). The Wright Stuff (CH5).The Royal Variety Performance (ITV). It Shouldn't happen to an Awards Presenter (ITV) The Brian Connelly Show.

His film work has included, Black Ball (directed by Mel Smith), Keeping Mum, The Jam, The Bird House, Oblivious, The Flirting Club, and Brahms and Liszt.
Testimonials
Terry Alderton is on astonishing form.... Masterful!
This is a mainstream act that dares to be different, that comes from the soul... Effortlessly enjoyable yet excitingly different. He deserves a big future.
The moment he steps on stage he delivers a dizzying whirlwind of sharp one-liners, character gags, dead-aim impressions and stunning sound effects... the result is the funniest most thought-provoking, dazzling brilliant comedy you'll see all year.
He was sensational, a powerhouse who had the whole audience on their feet at the end. It was inspiring to see a man reduce an audience to tears of laughter.
You may also be interested in...