Tanya Beckett
Business presenter, BBC World News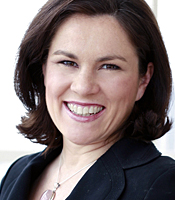 About
Tanya Beckett is the presenter of BBC World News' World News Today: Business Edition. She has worked as a presenter for the BBC since 1998, anchoring a variety of news and business programmes across the BBC including Business Breakfast, Breakfast News, Working Lunch and most recently, World Business Report. She also co-presents news programmes live from Washington with her London-based colleague, Zeinab Badawi.

In 2003 Tanya moved to the US, where she hosted live shows in New York and Washington, reporting on key events such as the 2004 presidential election and the Wall Street financial scandals. She was also the New York-based presenter of World Business Report on BBC World News.

After graduating from Oxford with a degree in Metallurgy and the Science of Materials, Tanya spent a year working for Courtaulds, researching the properties of carbon and glass fibres. She then spent the next four years working as an investment banker for Commerzbank in Frankfurt and Citibank in London.

In 1993, Tanya became a business and political reporter for CNBC Europe. She's worked for various broadcasters including the BBC; NBC Europe; CNBC Europe, where she presented The Moneywheel and FT Business Tonight; Sky News, as presenter of its live nightly business news programme; for CNN International, reporting from the London International Financial Futures Exchange; and for News Direct Radio 97.3 in London.

During her television career, Tanya also presented a 30-minute chat show for NBC Europe with guests from the worlds of politics, show-business and the arts, including Chaim Herzog, Salman Rushdie, Ian Smith and Eddie Izzard.

Tanya speaks German and French fluently and has completed many high profile assignments both corporate and broadcast in both languages.
You may also be interested in...