Steve Rider
Sports commentator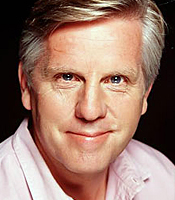 Copyright © BBC
About
Steve Rider is television's foremost sports presenter. He hosted BBC Television's Grandstand and Sportsnight for over 20 years. In 2006, Steve joined ITV Sport as the presenter of Formula One and their World Cup '06 coverage.

In 1980 Steve made his network debut as presenter of ITV coverage from the Moscow Olympics and he is the only television journalist to have presented all of the major sports magazine programmes of British Television, including BBC TV GRANDSTAND, BBC TV SPORTSNIGHT, ITV WORLD OF SPORT and ITV MIDWEEK SPORTS SPECIAL.

Steve has a journalistic background both in local newspapers and press/public relations. For two years he was a reporter and feature writer with Hayters, the Fleet Street based sports agency, before joining the newly established independent local radio stations LBC/IRM as a sports presenter and reporter.

His television career began at Anglia Television, where he was Sports Editor. Two years later he joined Thames Television where he was widely regarded as one of ITV sports top presenters and reporters.

In 1985 he accepted an invitation from the BBC to take over from Harry Carpenter as presenter of Sportsnight, a role he filled for six years. In 1991 he switched positions to become the main host of BBC Sports flagship programme Grandstand. During this period he also took over as BBC's golf presenter and became closely associated with the Ryder Cup, The Open, the US Masters and World Matchplay. Since 2000, Steve also presented the BBC coverage of 'The Seve Cup'.

Since 1986, Steve hosted the BBC's Sports Personality of the Year. In autumn 2003, Steve published a book to celebrate the 50th anniversary of this prestigious event.

Again since 1980, Steve has anchored coverage of the Commonwealth Games, the Olympics and the Winter Olympics. In 1996 he hosted the bulk of BBC's coverage of the Barcelona 1996 Olympics, which won the International Olympic Committee Golden Rings Award, the Royal Television Society Sports Award and was nominated for a BAFTA award. Steve continued to be the main anchor for the BBC's Olympics and Commonwealth Games coverage, up to and including Athens 2004.

Steve's other credits (appearing as 'himself') include Goodnight Sweetheart, French and Saunders, The Full Wax, Blankety Blank and They Think it's all Over. Steve has become strongly involved in corporate video and presentation for the motor industry along with Golf companies, clients include Williams, McLaren, HSA, Volvo, Wilson, Nissan, Jordan, Littlewoods, Jaguar, Renault and the RAC Network Q Rally.
You may also be interested in...