Gary Lineker OBE
Former England Captain turned sports presenter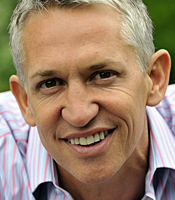 Copyright © John Cassidy
About
During his playing career, which spanned from 1976-1994, Gary Lineker, OBE, was one of the best-known and widely admired soccer players in the world. When Gary retired from the game he took to sport related presenting. His work for the BBC and Radio, included the coverage of the Atlanta Olympic Games.

Gary has developed various presentations drawn from his own experience as a world-class footballer and Captain of the England soccer team. His topics include, Motivation, Teamwork and Leadership. With his sound knowledge of these subjects he can adapt his presentations to suit any corporate event.

In an international glittering career that took him as far as Spain and Japan, Gary has played for Tottenham, Everton, Leicester City FC, Barcelona FC, Nagoya Grampus 8 FC and was in the England team for 9 years. Gary captained the England side from 1990-92 and his goal strike rate of 48 goals for his country places him second on the all-time list behind Bobby Charlton.
Speech Topics
A charismatic and popular personality, Gary Lineker is widely recognised and admired world-wide. An entertaining and experienced after dinner speaker he is highly sought-after as a host and public speaker at a number of leading events. He also speaks fluent Spanish and Japanese.
Tags for Gary Lineker OBE
You may also be interested in...