Howard Webb MBE
Renowned former international and Premier League referee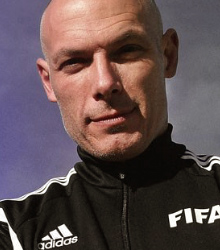 About
Howard Webb was a professional football referee for 12 years, refereeing almost 300 matches in the English Premier League. He was also a FIFA international referee for 10 years and was appointed to referee in 9 major tournaments, including the FIFA World Cups in 2010 and 2014.

Having taken charge of many high profile finals including the English FA Cup Final in 2009 and English League Cup Final in 2007, he achieved the unique honour in 2010 of being appointed as referee for both the UEFA Champions League Final and FIFA World Cup Final, and in doing so became the first referee in the history of the sport to take charge of both finals in the same year.

Howard retired from active refereeing in 2014 and works with broadcaster BT Sport on their Premier League, Champions League, Europa League and FA Cup coverage and with ITV on their coverage of the European Championships.
Additionally, Howard is still actively working within the game, and works with the MLS (Major League Soccer) in the US overseeing the development of their VAR technology (Virtual Assistant Referees).

Aside from being active in the game, Howard's latest book, 'The Man in the Middle', was published by Simon & Schuster on 20th October. Having been an Amazon bestseller following a serialisation in The Times, the autobiography gives an insight into the modern-day game and Howards journey from local lad from Rotherham to the biggest stage in world Football.
You may also be interested in...