Kevin Keegan OBE
Former England International football player and manager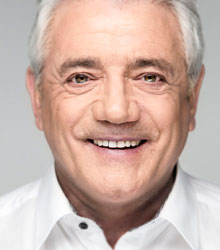 About
Kevin Keegan is one of the best known faces in English football. A former England international player, Kevin Keegan went on to manage several English clubs - most notably Newcastle United - as well as the English national side.

Kevin began his playing career at Scunthorpe United in 1968, before moving to Liverpool in 1971, where he made an immediate impact. In 323 games at Anfield, spread across six seasons, he scored 100 goals. He was brave, quick and had energy to burn, and despite being only 5ft 8in, he was superb in the air, thanks to his great jumping technique and perfect timing. Liverpool manager Bill Shankly paid Keegan the ultimate compliment by crediting him as the player who ignited the Reds' success in the 1970s – Liverpool won the League three times, the UEFA Cup twice, and The FA and European Cups during Keegan's time at Anfield.

In 1972 Kevin Keegan gained his first England cap against Wales in Cardiff. He subsequently moved to Hamburg in 1977 where he was crowned European Footballer of the Year in both 1978 and 1979, won the Bundesliga title in 1978–79, and reached the European Cup final the following year.

Keegan then moved to Southampton and spent two seasons at the club before a transfer to second-tier Newcastle United in 1982. He helped Newcastle to promotion in his second season, and retired from football in 1984, having been capped 63 times for England, scoring 21 goals and captained the team on 31 occasions.

Following a break from the game, in 1992, Kevin moved into management at Newcastle in 1992, again returning the club to the top flight, as First Division champions. After promotion, Keegan's Newcastle finished second in the Premier League in 1995–96, after leading the table most of the season. And after a spell at Fulham, he took charge of the England team in 1999 leading the Three Lions to the Euro 2000 Finals.

He then became manager of Manchester City in 2001 leading the team to promotion as First Division Champions, becoming the first manager in the Premier League era to win the Football League title with two different clubs. Qualification for the UEFA Cup followed before Kevin retired in 2005.

Kevin had been out of football for almost three years when he returned to Newcastle United for a second spell as manager in January 2008, but this appointment was short-lived as Keegan resigned just eight months later following a dispute with the club's directors. He continues to be involved with coaching and as a pundit with ITV and ESPN.
Speech Topics
Kevin Keegan is an adept motivational speaker, focusing on topics such as teamwork and leadership. He is also a captivating after dinner speaker.
Tags for Kevin Keegan OBE
You may also be interested in...