Harry Redknapp
Renown premiership football manager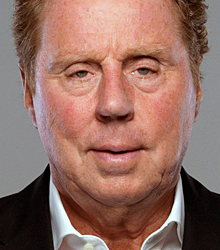 About
Harry Redknapp is a legendary and much loved figure within the world of professional football, and one of the most experienced and successful managers in the history of the Premier League.

Having managed over 1400 Premier League games, he won the FA Cup in 2008 with Portsmouth and took Tottenham Hotspur into the UEFA Champions League for the first time in the 2010/11 season. Harry has also managed Bournemouth, West Ham United, Southampton and Queens Park Rangers.

Born in London's East End in 1947, Harry Redknapp was one of the most talented players of his era, with all the top London clubs vying to sign him. He eventually signed for West Ham in 1965 and helped them to win the FA Youth Cup, he also went onto play for England Youth and was in the team that won the Junior World Cup beating Spain 4-0 in the final. He moved to Bournemouth in 1972 and finished off his playing career at Brentford.

However, it is of course Harry Redknapp's managerial career that is most glittering, and for which he is most famous. Over the years he has coached and managed a number of top teams including Bournemouth from 1983, West Ham from 1992 (first as assistant manager before taking over in 1994) and then Portsmouth as Director of Football in 2001 - where he transformed the team, taking them from the lower end of the 1st division to the premiership. Southampton followed, with a brief managerial role under the scrutiny of the media spotlight, and then in 2005 he returned as manager of Portsmouth.

Harry Redknapp is a much loved character who tells it like it is, and as such his appearances at all variety of functions, ceremonies and events are always much talked about and add huge value - leaving everyone in the audience feeling they have met a real football star.
Speech Topics
As former player and highly regarded football Manager, Harry Redknapp appears at many corporate and private association events. Highly sought-after he always entertains and delivers truly great speeches that amuse and inspire all sorts of audiences in equal measure.

A forthright yet diplomatic personality who is passionate about the game, Harry Redknapp has much to say about the good — and not-so-good — in top-flight professional football, and is generally regarded as being one of the best sporting speakers in the country.
You may also be interested in...