Steve Lamacq
Brit DJ - one of the UK's most avid supporters of new bands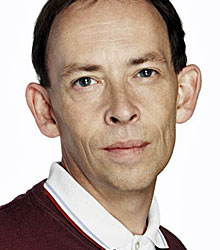 Copyright © BBC Radio 2
About
Steve Lamacq is acknowledged as one of the UK's most avid supporters of new bands. He was the first presenter to broadcast on three BBC music radio stations! His shows on BBC Radio 1, where he presented for 16 years, included the Evening Session, Lamacq Live and one of their flagship shows In New Music We Trust.

Other shows include his Drivetime show broadcast weekdays on BBC 6 Music and The Steve Lamacq show on BBC Radio 2.

Steve is now also a familiar voice on BBC Radio 2 through a number of landmark documentaries on British music, most recently The Digital Music Explosion, Great British Music Explosion, The Creation Story and the National Great British Music Debate.

Steve is also a regular contributor for BBC 5 Live, a station that also allowed Steve to bring his love of both music and football together to host his show, Rock 'n' Roll FA Cup.

Renowned for fronting the groundbreaking Radio 1 Evening Session for a decade helping to discover and support new bands he can usually be found at a gig after his radio shows. In fact he once clocked up 197 gigs in one year as part of a bet.

Steve's first radio experience was at XFM, where he presented the drive time slot. However, his background previous to this was in journalism.

Training at Harlow College before starting work as a junior reporter with the West Essex Gazette, he then moved to its sister paper, The Harlow Gazette becoming Sports Editor at the age of 21. He joined the New Musical Express in November 1987 as a sub-editor, progressed to news editor two years later and finally became live editor in 1991 where he developed a reputation for discovering new bands.

He's continued writing throughout his radio career and published his book Going Deaf for a Living in October 2000, revealing his viewpoint on notorious stories such as the infamous Oasis Radio 1 interview. He regularly contributes to The Guardian, commentating on music and industry issues.

Steve is a respected and influential voice in the broadcast industry, always ready with a fascinating anecdote and strong point of view. Apart from new music, he's also dedicated to a pint of cider, a good curry and Colchester United.
You may also be interested in...