Judge Jules
Ministry of Sound, KISS FM and Ibiza DJ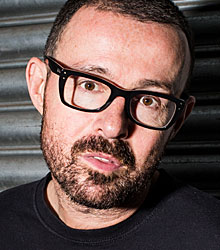 About
With an award-winning career that has spanned more than three decades, when people think of Judge Jules they instantly imagine his radio host prowess. From blowing up on KISS FM to then taking his incredibly successful BBC Radio 1 show to unprecedented heights with it becoming the soundtrack to Dance music's booming generation.

Winner of a huge list of awards, Jules has earned his place amongst the DJ aristocracy with such accolades as - Best DJ (Muzik Awards), No.1 DJ (Mixmag readers' poll), Best International DJ (Dancestar Awards), and Best Radio DJ at the Smirnoff Dancestars and regular Top 10 positioning in Dj Mag's Top 100 Dj's poll, peaking at no. 3 in the world! Now, as a ruler of the digital airwaves, Judge Jules' show The Global Warm Up is broadcast on over 70 stations across the globe including the colossal Sirius XM as well as notching up a gigantic 750,000 downloads every single week via his podcast.

Jules was educated in North London and then attended the London School of Economics (LSE), where he earned a degree in entertainment law. During his time at university, Jules first took to the decks hosting small parties where he was the DJ, hence the nickname 'Judge' Jules. This launched a career that went on to notch up millions of miles, thousands of pairs of decks rocked and countless gigs in far-flung destinations, as well as the odd dirty warehouse thrown in for good measure.

Judge Jules began playing professionally in 1987 and was quickly hired by the then-pirate radio station Kiss FM. Since then he has played across the length and breadth of the United Kingdom and on almost every continent in the world. With his worldwide appeal ever increasing, Judge blends passion with technically brilliant sets that maintain his domestic and international demand.

They say that you haven't achieved iconic status as a DJ until you have established yourself in Ibiza, and Jules' presence on the dance island is legendary. Judge Jules was the first electronic music DJ to establish and promote his own weekly branded Ibiza night. His famous Ibiza brand Judgement Fridays (formerly Judgement Sundays) continues to pack out their Balearic home week in, week out, totting up nearly two decades of events on the island. With each season the Judgement spell is cast over a new generation of reveller and secures its place in Ibiza legends.

In 2012, Jules decided to put his legal training to use, becoming a music and entertainment lawyer for part of the week, whilst DJing for the remainder. He now represents DJs, managers, promoters, labels, publishers, talent and other related industry types, putting his years of experience in every field of music to good use. Although seemingly very different jobs, Jules' roles as DJ and lawyer are symbiotic and maintain Jules' position as a key industry 'player' as well as player of great tunes.
Performance
Judge Jules' DJ sets are the epitome of what DJing is about - passion and crowd-connection, memorable tunes and hands capable of the most mouth-watering mixing.

He is one of the most popular, in-demand and influential figures in dance music, playing some of the most sought-after gigs, both on his home turf of the United Kingdom and around the globe. In addition to dividing his time between club shows and large-scale public festival appearances, Jules is very popular for private parties and also on the corporate party scene, which has seen a trend recently for employee summer festivals.
Testimonials
Wow! A DJ legend and a genuinely great guy, very down to earth, whose very presence and music selection whipped the crowd into a frenzy and created an almost tangible buzz that lasted the whole night… in fact, we're all still buzzing now!