Scott Mills
BBC Radio 1 DJ and television presenter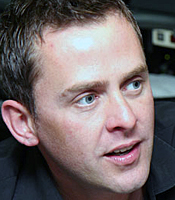 About
Scott Mills always dreamed of becoming a Radio 1 DJ. At 16, after barraging his local radio station Power FM with demo tapes, Scott was given the chance to present a week of shows.

He was promptly offered a five hour slot from 1.00 to 6.00am six nights a week, which made Scott the youngest radio presenter in the UK. An offer for the Power FM drivetime show soon followed.

Since then, Scott has never looked back. After a two year stint at GWR FM in Bristol, Scott was snapped up by Piccadilly Key 103 in Manchester. Initially on the late night slot, Scott swiftly shifted to the mid-morning slot. While there Scott conducted numerous high profile interviews and even secured an exclusive chat with Robbie Williams about his departure from Take That.

In 1995, Scott was asked to join the new London station Heart FM. Live events in Battersea Park, Hyde Park and a special on stage appearance in the middle of Covent Garden followed.

Other television credits for Scott have included a regular Sunday night appearance on Sky News where Scott gave his opinion on the week's newest record releases, and presenting for the British Forces abroad and a six week music show for the Middle East. He also hosted BBC 3's 'Upstaged'.

In 1998 Scott was approached by the Radio 1 early breakfast show and carried on getting up early for Britain until he took over the weekend afternoon shows in January 2004. In June of that year Scott took over the weekday early evening slot, 4-7pm.
You may also be interested in...