Jo Whiley
One of Britain's most popular and iconic radio DJs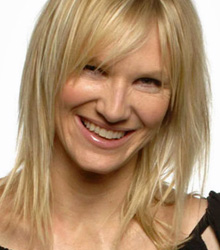 About
Jo Whiley is one of Britain's most popular and iconic radio DJs and currently presents the mid-morning show on BBC Radio 1 from 10am. Her guests have included Coldplay, Dido, Justin Timberlake, Madonna and Oasis.

Jo's first taste of radio work was presenting a youth show on BBC Radio 4. She later produced C4's The Word, giving airtime to Nirvana and Rage Against The Machine. She joined Radio 1's Evening Session in the Spring of 1993, becoming permanent co-presenter with Steve Lamacq in September. The show was oriented towards less-mainstream, non-dance music and ran until February 1997 (the heydays of Britpop - Blur and Oasis).

For corporate clients Jo Whiley is ideal as an award ceremony host/compere and is equally at ease in the interview chair hosting Q&A sessions.

In addition to her radio and voice over work, Jo Whiley is also an adept television presenter and often fronts televised coverage of major music festivals such as Live8 (2005), the Glastonbury Festival, Sound city Music Festival and other Radio 1 road shows. She also narrated the BBC3 series, Little Angels and provided the radio voice over for Richard Curtis' hit romcom Love Actually (2003).

Jo Whiley is married to Virgin Records executive Steve Morton and they have four children.