Stephen Mangan
Actor and comedian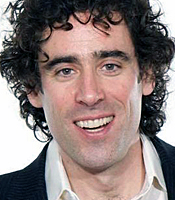 About
Comedian and actor Stephen Mangan is probably best known for his portrayal of the delusional and arrogant anaesthetist Guy Secretan in the hit Channel 4 hospital sit-com "Green Wing" and, more recently, starring alongside former Friends star Matt LeBlanc as Sean Lincoln in BBC2's "Episodes".

Stephen has also appeared in shows such as "I'm Alan Partridge", "The Armando Iannucci Show" and "Dirk Gently", However, his breakthrough television role was starring as Adrian Mole in "Adrian Mole: The Cappuccino Years" in 2001. In the same year he also appeared in "Sword of Honour" (Channel 4) alongside Daniel Craig and since then has worked extensively in British television as a lead actor.

An acclaimed stage actor, Stephen studied at Cambridge University, where he gained a Master of Arts in Law, and trained at the highly esteemed RADA. He was TONY-nominated for his portrayal of Norman in "The Norman Conquests" on Broadway and starred as Bertie Wooster in "Jeeves and Wooster in Perfect Nonsense" at the Duke of York's Theatre. Stephen has also performed in plays by Shakespeare, Coward, Benn and Goldsmith throughout the UK and the West End.

Film roles include Ron Howard's feature "Rush", "New Year's Eve", "Billy Elliot", "Birthday Girl", "Confetti" and, in 2014, he voiced the title role in "Postman Pat: The Movie", a 3D computer-animated film featuring Postman Pat, star of the long-running BBC children's series.

Stephen Mangan is a captivating, lively and highly sought-after awards host. From 2009-2013 he hostsed the Evening Standard British Film Awards and in 2014 he returned to host the British Academy Television Craft Awards in London for a third time. 2014, Mangan returned to host the British Academy Television Craft Awards in London for a third time. With sufficient notice he can also create a short and amusing after dinner style speech.
You may also be interested in...