Sir Ian Botham
Former England test cricketer and a fantastically entertaining speaker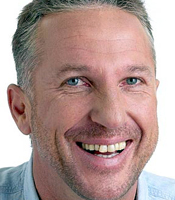 About
Ian Botham has been compared by many commentators as English Cricket's Bradman because every time he took the wicket, he was capable of anything. For that reason the fans came and English Cricket flourished throughout the 80's.

The very brash and occasionally controversial Botham began his international cricket career as a charismatic 22-year-old in a county match against New Zealand where he cracked a thrashing 104 runs and took 8 wickets. The whites of the Test Team would soon be beckoning.

Ian Botham's test debut arrived in 1977 against the Australians where he took 5 wickets, which were generally put down to luck, until he continued his efforts in the second test. It was against the touring Australian side when Botham placed his name amongst legends. Australia achieved the 104 runs of the 151 they needed for victory when Botham took the new ball. He took five wickets for 1 run in 28 balls, and with this action single handedly won the Test series for England.

Ian's retirement lead him directly to the commentary box and to public speaking to a cricketing public who had not yet quenched their thirst of the magnificent Botham.

Ian Botham is a fantastically entertaining speaker who's brash style and charisma fills the room like his presence used to fill pavilions all over the cricketing world.
You may also be interested in...