Phil Tufnell
Entertaining former England cricketer and star of They Think It's All Over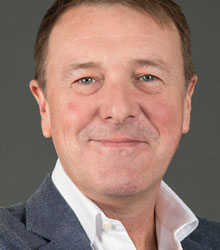 About
The 2003 winner of ITV's 'I'm a Celebrity Get Me Out of Here'. Affectionately known throughout the cricketing world as 'The Cat' and 'Tuffers', Phil has entertained many sporting crowds over the years.

During recent times, Phil Tufnell has been able to combine his cricketing expertise with his 'mischievous' and 'laddish' reputation and regularly enjoys the banter referring to his alleged misdemeanours. During the past three or four years, Phil has gained a great deal of experience in perfecting his after dinner speaking, and specifically a combination of speaking and Question & Answer sessions, to which Phil's personality is extremely well suited. He is always happy to give his honest, passionate, amusing and, if need be, controversial opinion on a number of topics, sport related or not.

Through his openness Phil endears himself to the audience, allowing them to relate to his past experiences, which always ensures a relaxing and very enjoyable evening. Phil has gained a great deal of experience through his various work on television. It has included analytical punditry on Sky Sports and Channel 4, appearances on current affairs programmes, chat shows and quiz shows, ranging from team captain on A Question of Sport and Blankety Blank to TFI Friday and Soccer Am.

Since winning 'I'm A Celebrity...' Phil has gone on to co-present They Think It's All Over and Simply The Best amongst other prime time television shows and is a reporter for BBC's The One Show.

Phil Tufnell is more than happy to make an appearance as a 'celebrity face' to make an evening a little extra special for both young and old. He is extremely accommodating to people who wish to discuss matters with a sporting celebrity.
You may also be interested in...