Kevin Pietersen MBE
Legendary cricketer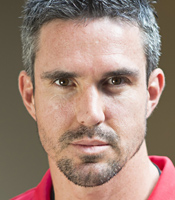 About
Kevin Peter Pietersen made his debut for Natal Cricket Club, South Africa, in 1997 before moving to England to further his opportunities for playing at International level. His English Mother gave Pietersen eligibility to play for England, and after serving a qualifying period of four years playing at county level, he was called up immediately into the England national side.

Kevin made his England Lions debut in 2004 where he averaged 104 in three innings on tour in Zimbabwe and followed this with three centuries in five innings against South Africa in 2005 for the senior team.

His phenomenal talent and self-belief can never have been more evident when he hit 158 on the final day of the last test at the Oval cricket ground in the 2005 Ashes, securing England a first Ashes triumph in 18 years.

He has a highest test score of 227, averages over 50 in test matches, and is one of the fastest ever English batsmen to reach 4000 test runs. His incredible reverse sweep for six off Muttiah Muralitharan at Edgbaston has developed into his trademark switch hit, another element of his game that keeps him in the highest echelons of World Class Batsmen.

In 2009 Kevin became one of the World's most expensive cricketers in the IPL auction, playing for Royal Challengers Bangalore. In 2010 he was named player of the tournament on the way to helping England win the ICC World T20.

He was again instrumental in the team effort, hitting 227 In Adelaide in 2010 when England eventually went on to win the Ashes, making him a three time Ashes winner. In 2011 he was auctioned to the Deccan Chargers IPL team where he has instantly made a lasting contribution. 2012 saw Kevin sign to the Delhi Daredevils, starring once again with the bat, hitting an unbeaten 103 from 92 balls against his former side the Deccan Chargers.

Whilst playing for England in the 2013 Ashes series, by making a match-saving 113 Kevin became the highest run scorer for England from all forms of the game. England went on to win the series making Kevin a four time Ashes winner. During the 2013/14 Ashes series in Australia, Kevin won his 100th test cap for England.
Speech Topics
Kevin Pietersen is extremely articulate with stories detailing his triumph over adversity, his meticulous training and in-depth preparation, culminating in awe-inspiring perspectives.

His 30 minute 'Busting the champion myth' speech asks how do you get from good to great? What turns talent into a champion? Kevin busts some myths, shares some confidences and explains how he has taken lessons from cricket into the next phase of his life.

He's honest, incisive and incredibly inspiring. Feedback from his talks has demonstrated the surprise his audiences feel at the difference between the Kevin they think they know and the Kevin they meet.
Tags for Kevin Pietersen MBE
You may also be interested in...