Shaun Murphy
World Snooker Champion 2005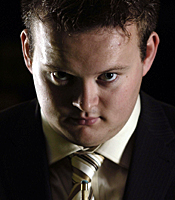 Copyright © John Cassidy
About
Since his beginning his professional snooker career in 1997 at just 15 Shaun Murphy has consistently remained in the top 10 snooker players in the world. His career has gone from strength to strength, being named a World Snooker Player of Distinction in 2000/2001 when he won both the Amateur English Open and the B&H Snooker Championship.

This resulted in him being awarded World Snooker Newcomer of the Year in 2000/2001. Having entered the World Snooker Championship in 2002 Shaun went on to secure the World Snooker Championship title in 2005.

Shaun is one of few to make such an impact in snooker, rapidly rising to the top at such a young age. A comedic, entertaining and motivational speaker, Shaun engages and inspires audiences with his story.
You may also be interested in...